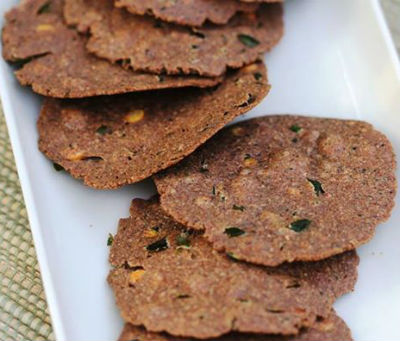 Ingredients:
Kezhvaragu (Ragi) Flour – 1 cup
Rice Flour – 1 cup
Asafoetida Powder – 1/4 tsp
Butter – 1 tsp
Pepper Powder – 2 tsp
Bengal Gram Dal – 2 tsp, soaked, drained
Salt as per taste
Oil as required
Method:
1. Mix the ragi flour, rice flour, salt, pepper powder, asafoetida powder and butter in a large bowl.
2. Add the dal and enough water.
3. Mix well to a thick dough.
4. Make small balls and flatten them to a small/medium thattais.
5. Heat oil in a pan over medium flame.
6. Fry the prepared thattais till golden brown.
7. Remove and drain excess oil.
8. Serve as a snack.