Light, crispy and addictive, onion rings are a very popular anytime snack and goes well with any dish.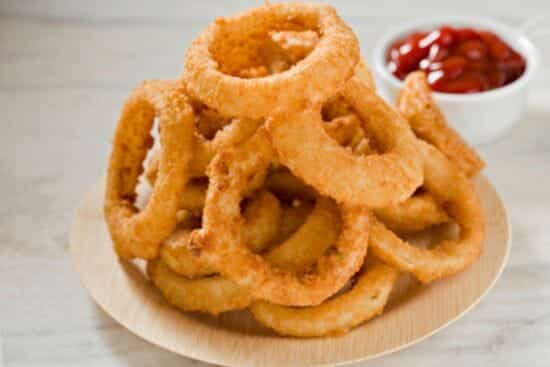 Ingredients:
Onions – 500 gms, large ones
Buttermilk – 500 ml
Maida (Plain Flour) – 300 gms
Baking Powder – 2 tsp
Baking Soda – 1 tsp
Oil – 500 ml
Red Chilli Powder – 1 tsp (or adjust as desired)
Salt – a pinch
Method:
1. Slice the onions carefully into circles and separate the rings.
2. Ensure they are whole and not broken.
3. Soak them in the buttermilk and cover with clingfilm.
4. Keep it in the fridge for 2 to 4 hours or overnight.
5. Mix the maida, baking powder, baking powder, salt and red chilli powder in a bowl.
6. Heat oil in a deep frying pan over medium flame.
7. Remove the onion rings from the fridge.
8. Take them one by one from the bowl, shake off any excess buttermilk and dip them in the flour mixture.
9. Keep them on a flat tray to dry and gently add the to the hot oil.
10. Deep fry until crisp and slightly dark golden brown.
11. Remove and drain excess oil.
12. Serve at once.