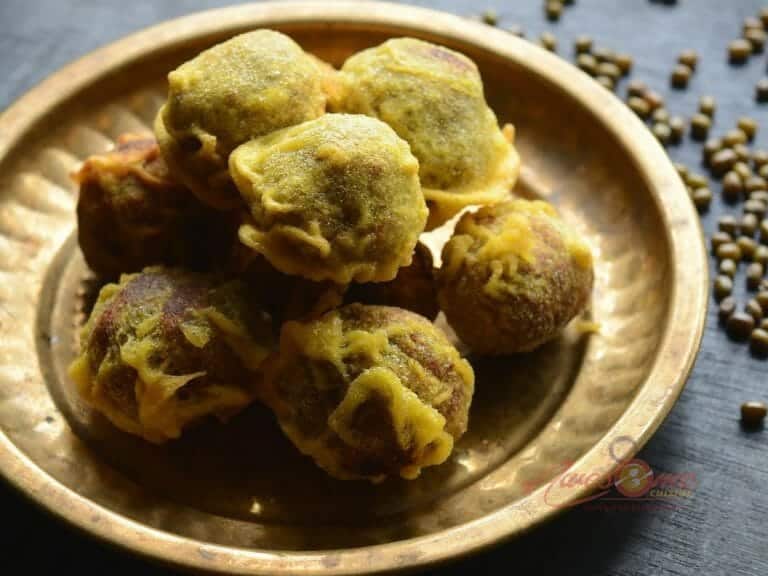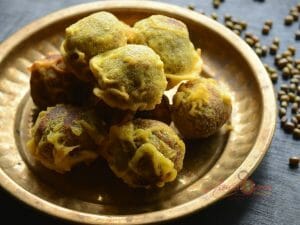 Ingredients:
For Filling:
Whole Green Gram – 1/2 kg
Coconut – 1
Dark Jaggery – 3/4 kg
Cardamom Powder – 2 tsp
For Outer Dough:
Wet Raw Rice Flour – 2 cups (soaked, pound and sifted)
Salt – 1 pinch
Turmeric Powder – 2 tsp
Oil for frying
Method:
1. Dry roast green gram until brown.
2. Grind to a fine rava consistency.
3. Grate coconut finely.
4. Grate jaggery and pour just enough water to cover it in a vessel.
5. Heat until jaggery melts completely.
6. Switch off the stove and strain the syrup through a clean muslin cloth.
7. Wash and wipe the vessel and pour the syrup back in it.
8. Heat it again and when it starts boiling add the grated coconut and cardamom powder.
9. Cook until the mixture gets thickened.
10. Add the green gram dal powder and remove from fire.
11. Prepare small gooseberry sized balls when it is still warm.
12. Allow to cool.
13. Keep aside for a day on a flat tray.
14. Soak raw rice for 30 minutes.
15. Drain water, dry in a cloth under shade and pound it to a fine powder and sift it.
16. Add salt, turmeric powder to this wet flour.
17. Mix water and prepare a bajji batter consistency.
18. Heat oil in a kadai.
19. Dip the prepared balls into the batter and deep fry. No need to fry until golden brown.
20. It will stick together while frying to form a bunch.
21. This sweet stays good for 1 week to 10 days.