Seedais are a popular Krishna Jayanthi festival snack across Tamil Nadu. These deep fried and delicious snack balls are a favorite of almost everyone. This variation is made with jaggery.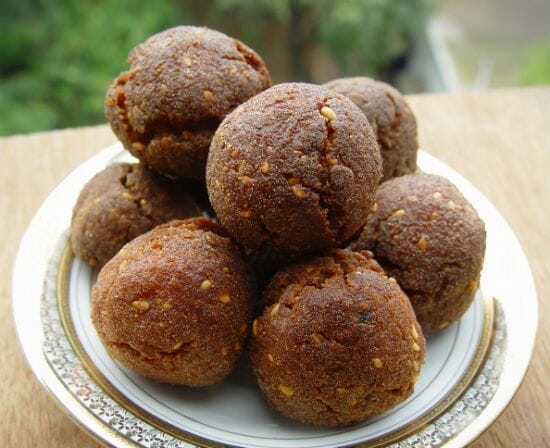 Ingredients:
Rice Powder – 2 cups
Jaggery – 1 1/2 cups
Coconut – 1/2 cup, grated
Urad Dal – 1 tsp
Cardamom Powder – a pinch
Butter – 2 tblsp
Oil for frying
Method:
1. Dry roast the urad dal until light brown and grind to a fine powder. Keep aside.
2. Mix enough water with jaggery and make a thick syrup.
3. Strain to remove impurities.
4. Mix all the ingredients in a large bowl and make a thick, pliable dough (like a chapati dough).
5. Make small balls from this dough and keep aside for 5 to 10 minutes.
6. Heat oil in a deep frying pan over medium flame.
7. Fry the prepared balls until crisp and brown.
8. Remove and drain excess oil.
9. Store in an airtight container.