Kai Murukku is a popular and traditional South Indian snack made during festivals and special occasions.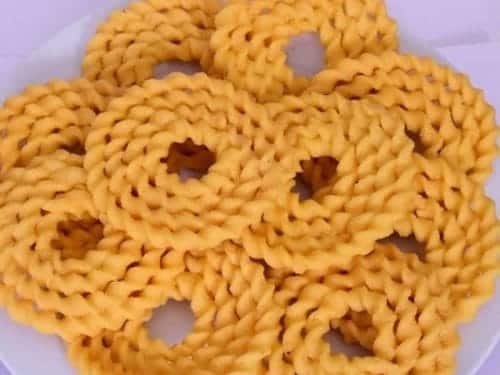 Kai Murukku, a beloved South Indian delight, is a testament to the region's rich culinary heritage. These twisted spirals of delight are not only visually captivating but also pack a flavorful punch that leaves you craving for more.
Originating from the kitchens of South India, Kai Murukku is a time-honoured snack that's an integral part of festivals and special occasions. The name "Kai Murukku" literally translates to "hand-twisted spirals," which makes this snack unique.
Kai Murukku is made primarily from two key ingredients: rice flour and urad dal (black gram dal). The rice flour forms the base of the snack after being dry roasted and ground, while the urad dal adds a subtle nuttiness to the mix. Along with a hint of black pepper and cumin, this snack is seasoned to perfection.
One of the highlights of making Kai Murukku is the tactile experience. After mixing the flour and spices, you add ghee and knead the mixture into a dough that's pliable and smooth. The fun part comes when you create the twisted spirals around a bottle cap, giving the Kai Murukku its iconic shape.
These spiral beauties are then deep-fried to a golden brown, resulting in a snack that's both crispy and crunchy. Each bite offers a symphony of textures and flavours, with the earthy notes of urad dal and the warmth of spices complementing the rice flour's mild sweetness.
Kai Murukku is a versatile treat. It's a standalone snack, ideal for munching with tea or coffee. You can also serve it as a side dish alongside a South Indian meal. The crunchy goodness of Kai Murukku pairs wonderfully with sambar, coconut chutney, or rasam.
If you enjoy Kai Murukku, you might also want to explore other South Indian snacks like Murukku, Chakli, or Thattai. These snacks share similar ingredients and are equally fun.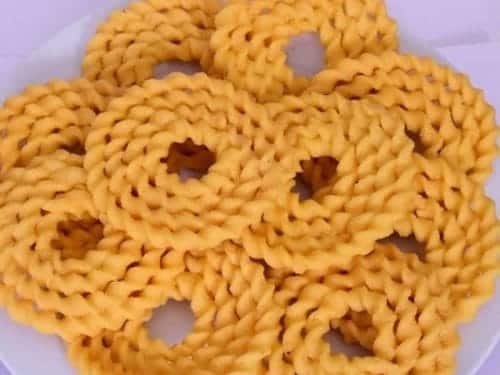 Kai Murukku
Kai Murukku is a popular and traditional South Indian snack made during festivals and special occasions.
Ingredients
2

cup

Rice Flour

1/2

cup

Urad Dal

dry roasted and ground

1/4

tsp

Black Pepper Powder

1/4

tsp

Cumin Powder

100

g

Ghee

as per taste

Salt

as required

Oil for frying
Instructions
Combine the rice flour, dal flour, salt, cumin powder and pepper powder in a bowl.

Add ghee and mix well.

Add enough water and knead well to a thick, pliable dough.

Keep a bottle cap in the middle of a wet, clean, white cloth.

Take some dough and form twisted spirals around the bottle cap.

Heat oil in a deep frying pan over medium flame.

Take out each murukku carefully and fry them till light golden brown.

Remove and drain excess oil.

Store them in a dry airtight jar.

Serve as a snack or as a side dish.
Frequently Asked Questions (FAQ):
What is the difference between Kai Murukku and regular Murukku?
Kai Murukku gets its name from its unique hand-twisted spiral shape, while regular Murukku is typically in the form of round or star-shaped snacks. Both are made from similar ingredients but have distinct textures and appearances.
Can I make Kai Murukku without ghee?
Yes, you can substitute ghee with butter or a neutral cooking oil if you prefer a dairy-free version. It might slightly alter the flavor, but it will still be delicious.
What are some suitable pairings for Kai Murukku?
Kai Murukku pairs exceptionally well with traditional South Indian accompaniments like sambar, coconut chutney, and rasam. It's also a perfect snack with a hot cup of masala chai or filter coffee.
Can I prepare the dough in advance and fry the Kai Murukku later?
Yes, you can prepare the dough ahead of time and store it in the refrigerator. When you're ready to enjoy Kai Murukku, simply shape and fry them for a fresh, crispy snack.
Are there any regional variations of Kai Murukku?
Yes, you can find regional variations of Kai Murukku with unique spice blends and shapes in different parts of South India. Explore these variations to experience the diversity of this beloved snack.