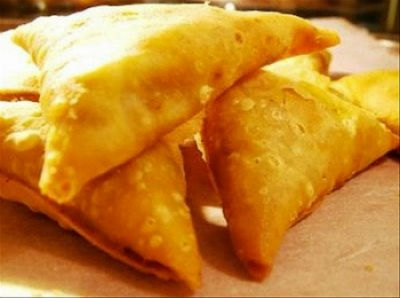 Ingredients:
Wheat Flour – 1/2 kg
Salt as per taste
Ghee – 4 tblsp
Onions – 4,
Ginger Garlic Paste – 1 tsp
Turmeric Powder – 1/2 tsp
Green Chillies – 2, finely chopped
Coriander Leaves – 1 tsp, chopped
Minced Meat (Keema) – 1/2 kg, boiled
Juice of 2 Limes
Red Chilli Powder
Oil for deep frying
Method:
1. Mix salt and water with the sieved wheat flour.
2. Make a stiff dough.
3. Knead well, cover and keep aside for 1 hour.
4. To make the filling, heat ghee in a frying pan.
5. Add the onions, ginger garlic paste, turmeric powder, green chillies and coriander leaves.
6. Fry for a few minutes.
7. Add the minced meat and fry well.
8. Squeeze in the lime juice.
9. Add salt to taste and red chilli powder.
10. Using a damp hand knead the dough till it becomes elastic.
11. Beat it with a rolling pin till it is soft and pliable.
12. Make marble sized balls of dough and keep them covered with a damp cloth.
13. Take 2 balls and roll each into equal sized thin rounds of about 7 inch in diameter on a floured surface.
14. Spread a little oil all over one of the rounds and sprinkle dry flour over it.
15. Put the other round over it and press down.
16.Roll out a little more to a larger round.
17. Keep on a hot griddle to brown slightly.
18. Turn over to cook the other side lightly.
19. It will puff up a little. Press down with a spoon around the sides to puff it up more.
20. Remove and smash together from the sides with both palms.
21. The rounds will separate.
22. Very quickly roll up each like a pancake and cut in four.
23. Keep them covered witth a damp cloth.
24. Take one roll and make a fold at one end like a triangular cone.
25. Make one more fold down the strip and stuff with mince.
26. Fold again sticking the flap down with a mixture of flour and water cooked together to a paste.
27. Fry in hot oil to an even brown till crisp.
28. Remove and drain excess oil.
29. Serve.
image credit: fatima-theffactor.blogspot.in
Keema Samosa