Vadai (or Vada) is a popular South Indian deep fried teatime/evening snack served with a choice of chutney. They are also served as part of a meal as starter snack. This variation is made with peanuts and is tasty and easy to make.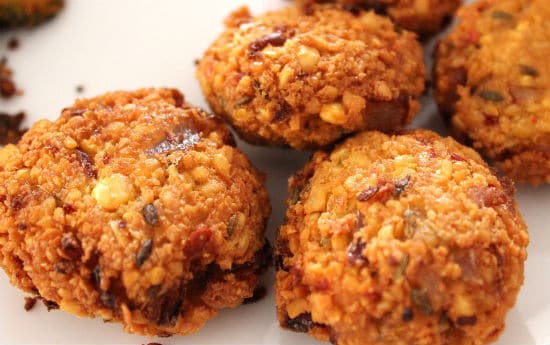 Ingredients:
Peanuts – 2 cups, roasted and shelled
Bengal Gram Dal – 1/2 cup
Onions – 1 cup, finely chopped
Ginger – 1 tsp, grated
Dry Red Chillies – 5 to 6
Curry Leaves – handful
Coriander Leaves – handful
Salt as per taste
Oil as required
Method:
1. Soak the dal and red chillies together for 1 or 2 hours.
2. Drain excess water and grind to a coarse paste.
3. Grind the peanuts to a fine powder and add to the paste.
4. Mix well.
5. Add the onions, ginger, curry leaves, coriander leaves and salt.
6. Add a little water and mix well.
7. Make small balls and flatten them slightly.
8. Heat oil in a deep frying pan over medium flame.
9. Fry the prepared vadais until golden brown.
10. Remove and drain excess oil.
11. Serve with chutney of choice.