A classic Indo-Chinese dish, this dry Chilli Mushroom is served as a starter/appetizer or as a snack with sauce or chutney of choice. This dish is made without onions in some parts of India.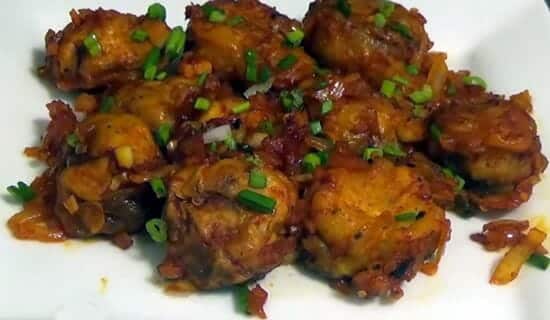 Ingredients:
Mushrooms – 100 gms, chopped
Onion – 1, chopped (optional)
Garlic – 1 to 2 tsp, chopped
Green Chilli – 1, chopped
Ginger – 1 to 2 tsp, chopped
Capsicum – 1, chopped, seeds discarded
Red Chilli Powder – 2 tsp, mixed with 1 tblsp water
Spring Onions – handful, chopped
Corn Flour – 2 tsp
Maida (Plain Flour) – 2 tsp
Vinegar – 1/2 tsp
Soy Sauce – 1/2 tsp
Pepper Powder as per taste
Coriander Leaves – few, chopped
Oil as required
Salt as per taste
Method:
1. Mix the corn flour, maida, salt, soy sauce and pepper powder in a bowl.
2. Add the mushrooms and mix well.
3. Heat oil in a deep frying pan over medium flame.
4. Fry the mushrooms until golden brown and crisp.
5. Remove and drain excess oil.
6. Keep one to two tsp oil in the pan and remove the excess.
7. Add ginger, garlic, onions and green chillies.
8. Saute for a minute or two.
9. Add the red chilli paste and little water, if desired.
10. Add the mushrooms and stir well.
11. Cook until all moisture has evaporated and remove.
12. Garnish with coriander leaves and spring onions.
13. Serve as a snack.
image via YouTube