Simple & healthy biscuits made with oats. Perfect accompaniment for morning or afternoon tea/coffee.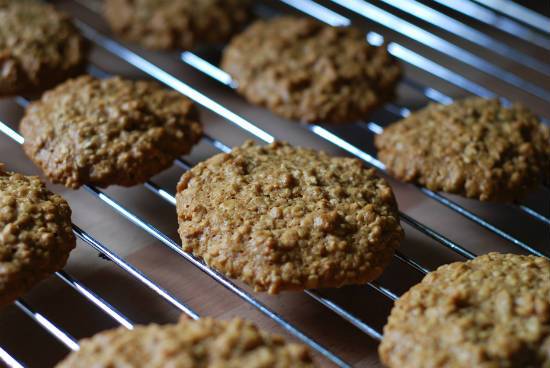 Ingredients:
Oats – 200 gms (preferably rolled oats)
Plain Flour – 175 gms
Butter – 175 gms + extra
Caster Sugar – 175 gms
Golden Syrup – 1/4 cup (or Corn Syrup)
Cooking Soda – 1/2 tsp
Ginger Powder – 1 tsp
Method:
1. Beat the butter and sugar in a bowl until light and fluffy.
2. Add the golden syrup and 2 tblsp of hot water.
3. Beat well until evenly mixed.
4. Mix the remaining ingredinets in an another bowl and add to the butter/sugar bowl.
5. Mix well until it has a soft dough consistency.
6. Grease a baking tray lined with parchment paper with butter.
7. Pinch small balls of the dough and flatten them slightly.
8. Place them on the baking tray and place it in a preheated oven at 180C/320F.
9. Bake for 15 to 20 minutes or until golden brown.
10. Remove, cool on a wire rack before transferring to an airtight container.