Enjoy the classic flavours of Vanilla Sponge Cake - a tender and airy treat with a golden brown crust and delectable icing. Simple yet irresistible, it's a dessert that will always stay in style.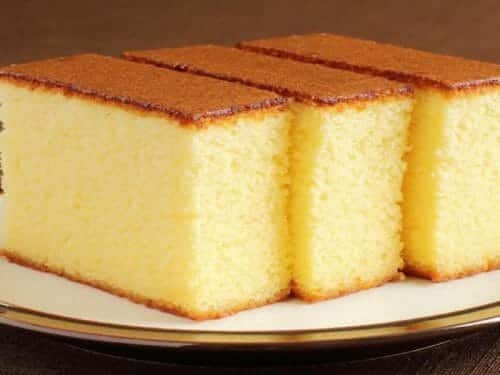 Vanilla Sponge cake is one of the most basic cake recipes. Made from staple ingredients found in our kitchen, this cake is extremely easy to make. There are just 5 major ingredients to this cake – flour, sugar, butter, eggs and baking powder.
The British cuisine has a popular cake named Madeira Cake, which is nothing but a simple sponge cake. Unlike many other cakes, the sponge cake is set apart because it doesn't require any fancy ingredient like leavening, shortening or products that are not easily available for home baking. The sponge cake is considered one of the earliest cakes that incorporated yeast-less baking technique which did not depend on yeast for the rise.
The secret to a soft, spongy cake is in the beating of eggs and butter mixture. The rise depends heavily on the amount of air incorporated during the whisking stage. Once the butter, eggs and sugar mixture is airy and light, the flour is folded into this carefully using a spatula.
This easy vanilla sponge cake recipe is perfect for beginners. This plain sponge cake will surely satisfy your sweet tooth with its fluffy and moist texture.
This delightful dessert requires only a few simple sponge cake ingredients. Gather flour, sugar, eggs, baking powder, butter, milk, and vanilla extract. You can quickly whip up a mouthwatering plain cake with these humble components.
Serve it as a tea cake by itself or use as a base for any other cakes that you want to make during a special occasion like birthday parties or festivals like Christmas. An easy recipe for a simple, moist and delicious vanilla sponge cake.
Whether you enjoy it as is or customize it with chocolate or citrus flavours, the Vanilla Sponge Cake is a timeless treat that will please kids and adults alike.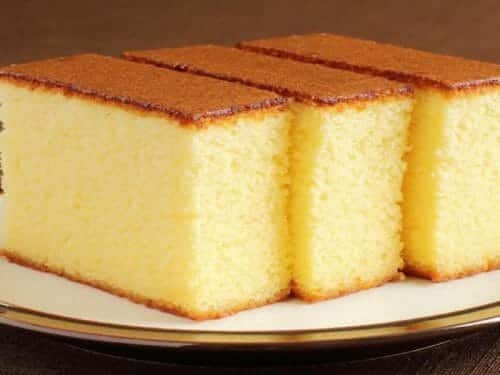 Vanilla Sponge Cake
Enjoy the classic flavours of Vanilla Sponge Cake - a tender and airy treat with a golden brown crust and delectable icing. Simple yet irresistible, it's a dessert that will always stay in style.
Ingredients
125

g

Maida (Plain Flour)

125

g

Butter

125

g

Powdered Sugar

2

Eggs

1/2

tsp

Baking Powder

1/4

tsp

Baking Soda

1/3

tsp

Vanilla Essence

Salt

a small pinch
For the icing:
25

g

Butter

25

g

Icing Sugar

1/8

tsp

Vanilla Essence
Instructions
Preheat oven to 180C.

Beat the butter and powdered sugar until frothy.

Break the eggs into the butter mixture and mix.

Add vanilla essence.

Sieve together the maida, salt, baking powder and baking soda in a bowl.

Gradually add the dry mix into the butter mixture and carefully fold it using a spatula.

Transfer to a greased and floured cake tin.

Smooth the surface and place it into a preheated oven at 180C for 45 minutes or until the top is golden brown and a skewer inserted into the center comes out clean.

Remove and allow it to cool before de-moulding and transferring to a wire rack to cool completely.
Icing:
Beat all icing ingredients until frothy and light.

Transfer it into a piping bag and keep ready for decoration.

Once the cake is cooled, decorate as desired.
Notes
To make chocolate flavour, add 2 tbsp for unsweetened cocoa powder to the dry mix. Sift it well to remove lumps.
For an orange or lemon flavouring, grate the peel of the fruit and add it to the batter. You can optionally use an orange or lemon essence as well.
Whether hosting a birthday party or simply craving a slice of cake, this easy vanilla sponge cake is the perfect choice.
Frequently Asked Questions (FAQs) about Vanilla Sponge Cake
Can I substitute the plain flour (maida) with whole wheat flour?
Yes, you can substitute the plain flour with whole wheat flour in this Vanilla Sponge Cake recipe. Whole wheat flour adds a nutty flavour and a slightly denser texture to the cake. However, remember that the cake may be marginally heavier than plain flour. To make the substitution, use the same amount of whole wheat flour mentioned in the recipe and proceed with the rest of the instructions. You may need to adjust the baking time slightly, as whole wheat flour requires a longer baking time.
Can I make this cake without eggs?
While eggs contribute to the structure and texture of the Vanilla Sponge Cake, you can replace them with an egg substitute if you follow a vegetarian or egg-free diet. Some common egg substitutes for cakes include applesauce, mashed bananas, yoghurt, or buttermilk. These alternatives can help provide moisture and binding properties similar to eggs. However, keep in mind that the texture and taste of the cake may differ slightly when using egg substitutes. Experimentation is critical to finding the best eggless version of the recipe that suits your preferences.
Can I prepare the icing in advance and store it?
Yes, you can prepare and store the icing for the Vanilla Sponge Cake in advance. Once you have prepared the icing and achieved a frothy and light consistency, transfer it to an airtight container or a piping bag. Store it in the refrigerator until you can use it for decoration. However, it's important to note that the icing may firm up slightly when refrigerated, so you may need to bring it to room temperature or gently warm it before decorating the cake. Quickly whisk or stir to restore its smooth and creamy texture before applying it to the cake.
Can I add other flavours or variations to the Vanilla Sponge Cake?
Absolutely! The Vanilla Sponge Cake provides a versatile base for experimenting with different flavours and variations. Try adding cocoa powder to create a chocolate version of the cake. Sift two tablespoons of unsweetened cocoa powder with the dry ingredients and mix well to remove any lumps. For a refreshing twist, you can grate the peel of an orange or lemon and add it to the batter along with the vanilla essence. You may also use orange or lemon essence for a more robust citrus flavour. These variations allow you to customize the cake according to your preferences and create delightful interpretations of the classic Vanilla Sponge Cake.