Crisp, Flaky and extremely delicious sweet made with a combination of flours, ghee and nuts.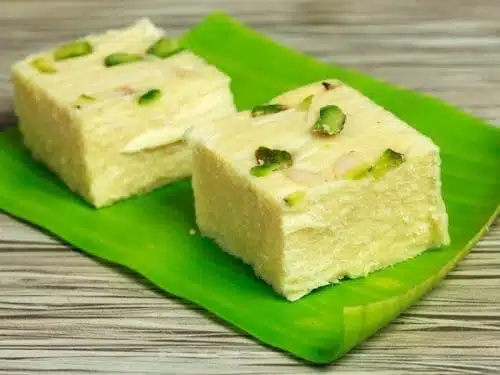 Soan Papdi is a very popular Indian sweet ideal for any occasion. Available in multiple variations, the most popular ones are made by Haldirams (often called as Haldiram Soan Papdi).
It is a wonderful Indian dessert that can be easily found in sweet shops across the country. It is specially ordered in festivals like Diwali and Rakshabandhan but sweet lovers like to experience its flaky and powdery flavour on their taste buds throughout the year.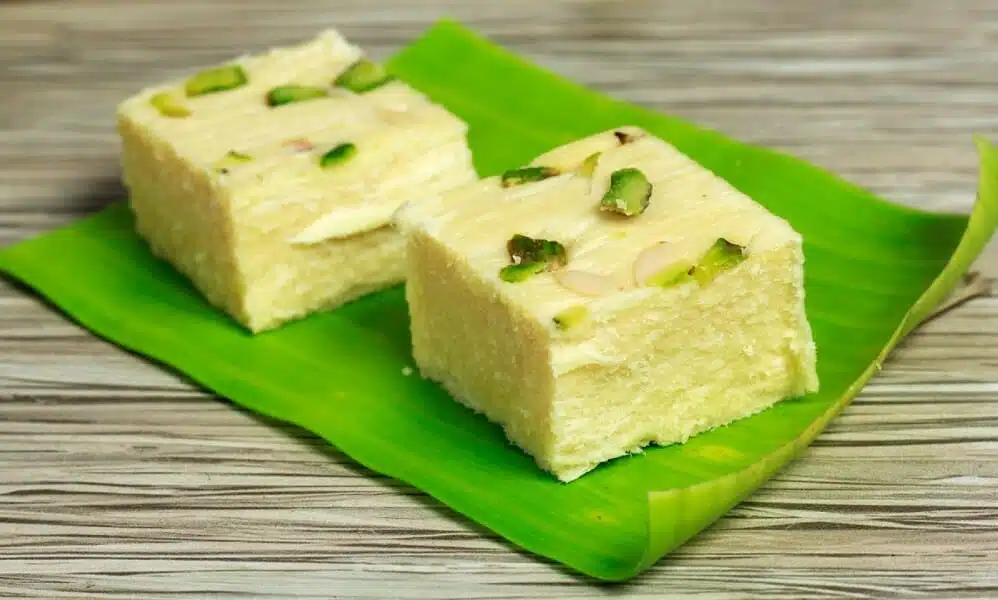 Most of the times, you will find Soan Papdi in the form of cubes or flakes as different sweet factories and halwais (Hindi name for cook who are experts in making sweet dishes and desserts) prefer to make it differently.
The ingredients are pretty simple – A combination of flours, sweetened with sugar and decorated with pistachios, and almonds. Cardamom plays an important role in enhancing the aroma and flavor of this dish. It's only the method that while interesting is a bit time consuming as well.
Soan Papdi is a North Indian recipe but the exact place of its origin remains unknown till date. It is also known by the name Sohan Halwa in some parts of India. People residing in West Bengal, Rajasthan, Uttar Pradesh, and Gujrat have developed a special liking for this sweet and include it in all their festivals.
Initially, it was sold loose but modern day sweet makers prefer to cut it in solid cubes as it looks more tempting this way. Soan Papdi is similar to many dishes across the world but it has a striking resemblance with a Turkish sweet dish named Pismaniye.
Soan Papdi tastes like Pismaniye but Pismaniye has a more nutty and strong flavor as compared to this light and crispy Indian confectionery. It is also closely related to another Indian sweet called Patisa which has a denser texture and sharp taste than Soan Papdi.
The mithai shops in India sell different variants of Soan Papdi filled in attractive packages. Indians have been gifting this sweet to each other for many decades now as it is both delicious and economical as compared to other sweets.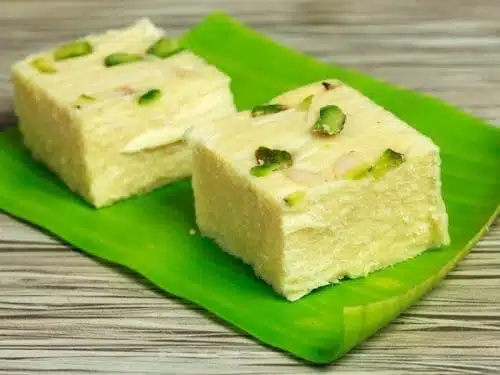 Soan Papdi

Recipe

Crisp, Flaky and extremely delicious sweet made with a combination of flours, ghee and nuts.
Ingredients for
Soan Papdi
2 1/2

Cups

Gram Flour

Chickpea flour/ Besan

2 1/2

Cups

Maida

All purpose / Plain flour

500

ml

Ghee

5

Cups

Sugar

2 1/2

Cups

Water

1/4

Cup

Milk

1

tsp

Cardamoms

crushed coarsely

4 inch squares cut from thin polythene sheets

optional
For Garnishing:
Almonds and Pistachios

handful & chopped
How to make
Soan Papdi
Sift the gram flour and maida together. Keep aside.

Heat ghee in a heavy pan over medium flame.

Add the sifted flour and roast until light golden. Remove and keep aside.

Combine the milk and water in a pan.

Place it over low-medium flame and add the sugar. Stir well to mix evenly.

Simmer until it reaches a two thread consistency.

Pour this into the flour mixture and mix well until the mixture forms thread like flakes. This method involves mixing and pulling the mixture apart alternatively.

Transfer this into a greased plate and pat it flat to a 1 inch thickness.

Sprinkle cardamoms, almonds and pistachios on top. Gently press them and even the surface.

Cut it into 1 inch squares. Cover with the polythene squares

Store them in an airtight container. Serve as a dessert.
Recipe Video
Notes
Note: Two thread consistency is when two threads are formed when your forefinger and thumb are pulled apart gently after touching the syrup. This is also the stage when a drop of the syrup is dropped into a bowl of cold water it forms a soft ball.