Punjabi Rajma (also known as Punjabi Rajma Masala/Punjabj Rajma Curry) is a delicious and popular North Indian dish. Typically served with rice as "Rajma Chawal", they are also a great side dish for roti, chapati or pulao.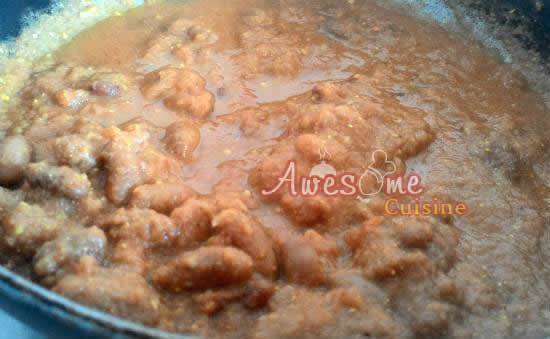 Ingredients:
Rajma (Kidney Beans) – 2 cups
Cumin seeds – 1 tsp
Onion – 3 tbsp, grated
Ginger and garlic – 2 tsp, grated
Yogurt – 3 tbsp
Tomato Puree – 1/4 cup
Cumin and Coriander powder – 2 tsp
Fenugreek leaves – 1 tsp, dried
Turmeric powder – 1/2 tsp
Red chilli powder as per taste
Oil – 2 tbsp
Salt as per taste
Method:
1. Soak the kidney beans in water for 8 hours. Pressure cook with salt for 20 minutes till soft.
2. In 2 tbsp hot oil, fry grated onions till light brown.
3. Add garlic and ginger and cook for 2 minutes.
4. Add yogurt and cook on low heat for 2 minutes.
5. Add tomato puree and turmeric powder and cook for 5 minutes, stirring all the time.
6. Put coriander and cumin powder, dry fenugreek and chilli powder. Cook till oil floats to surface.
7. Pour in cooked rajma. Bring to the boil and add salt. Simmer for 15 minutes.
8. Garnish with chopped coriander and garam masala powder. Add a dollop of cream.
9. Serve hot with rice or roti.