Kothu Parotta is a very popular South Indian street food with numerous regional variations. Leftover parathas are shredded and cooked with spices, vegetables, eggs and meat (typically chicken or mutton). The vegetarian version is without eggs and meat.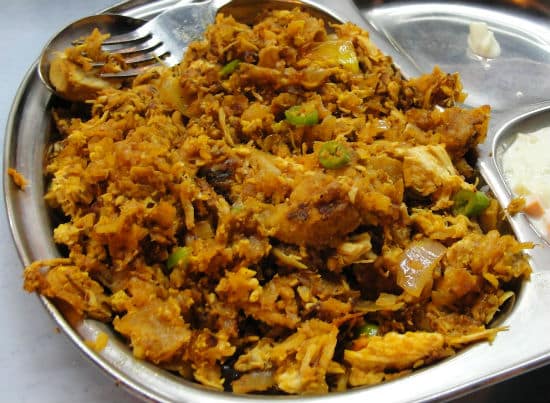 Ingredients:
Minced Mutton – 500 gms
Shallots (Sambar Onions) – 20
Green Chillies – 2
Ginger Garlic Paste – 2 tsp
Eggs – 2
Parotta – 4 (readymade or leftovers), torn roughly
Red Chilli Powder – 2 tsp
Turmeric Powder – 1/4 tsp
Salt as per taste
Oil as required
Coriander Leaves – handful
Curry Leaves – handful
Saunf – 1/4 tsp
Bay Leaf – 1
Method:
1. Heat 4 tsp oil in a pan over medium flame.
2. Fry the saunf, bay leaf and curry leaves for 20 seconds.
3. Add the onions, green chillies and ginger garlic paste.
4. Saute for a minute or two.
5. Add turmeric powder, red chilli powder and salt.
6. Stir well.
7. Add the minced mutton and cook for until done.
8. Break the eggs into a bowl.
9. Add salt and turmeric powder.
10. Whisk well.
11. Heat a dosa tawa (or a nonstick tawa) over medium flame.
12. Pour the egg batter and make omlettes.
13. Once done, cut the omelettes into small pieces.
14. Add this to the mutton mixture and mix gently.
15. Add the parottas and mix well.
16. Garnish with coriander leaves.
17. Serve.