A delicious, simple and tasty lunch or dinner fajitas with mushrooms, capsicums and onions. Garnish with grated cheese and serve with sour cream or sauce of choice.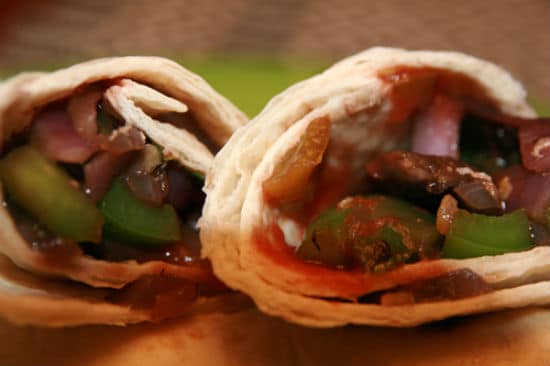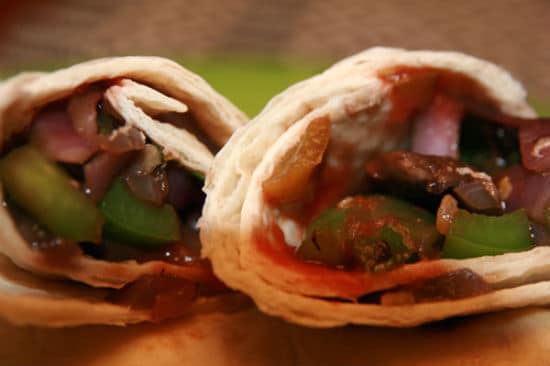 Ingredients:
Portobello Mushrooms – 2, stemmed, sliced
Olive Oil – 2 tsp
Red Capsicum – 1, finely sliced
Onion – 1, small, finely sliced
Tortillas – 2 to 3 or as required
Lemon Juice – 1 tsp
Salt as per taste
For the seasoning:
Red Chilli Powder – 2 tsp
Cumin Powder – 3/4 tsp
Oregano – 1/2 tsp
Onion Powder – 1/2 tsp
Garlic Powder – 1/2 tsp
Paprika – 1/2 tsp
Lemon Juice – 1 tblsp
Salt – 1/4 tsp
To Serve: (Optional)
Grated Cheese
Sour Cream
Method:
1. Mix all the seasoning ingredients in a bowl and keep aside.
2. Heat oil in a pan over medium flame.
3. Saute the onions and capsicums for a minute or two.
4. Add the mushrooms and 2 tsp of the seasoning.
5. Stir well and cook for 5 to 7 minutes or until the mushrooms are soft.
6. Add lemon juice and stir again.
7. Sprinkle some salt, stir and switch off the flame.
8. Warm the tortillas on a tawa and place them on a flat surface.
9. Add 1 to 2 tblsp of the mushroom mixture to one half and fold/roll well.
10. Garnish with grated cheese or sour cream if desired.
11. Serve at once.