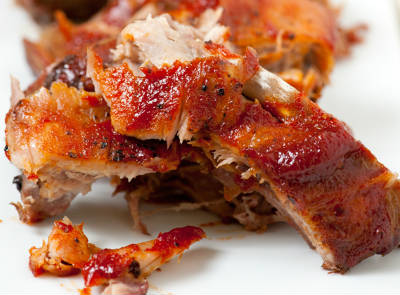 Ingredients:
Pork Ribs – 750 gms
Sesame Seeds – handful, toasted
For the marinade:
Nutmeg Powder – 1/4 tsp
Salt – 1/2 tblsp
Pineapple Juice – 1 cup
Black Pepper Powder – 1/4 tsp
Garlic – 4 cloves, minced
Ginger – 1/2 tblsp, grated
Star Anise – 1, ground
Cinnamon Powder – 1/4 tsp
For the rub:
Black Pepper Powder – a pinch
Salt – 1/2 tsp
Brown Sugar – 1/2 cup
Method:
1. COmbine all the marinade ingredients in a bowl and mix well.
2. Place the pork ribs on a baking dish and pour the marinade over.
3. Ensure the ribs are well coated.
4. Place the tray aside for 3 to 4 hours.
5. Combine the rub ingredients and keep aside.
6. Rub the rub evenly over the pork ribs and spoon over any remaining marinade.
7. Cover the baking dish with foil and bake in a preheated oven at 175C/350F for 2 hours.
8. Remove the foil and increase the temperature to 225C/450F.
9. Baste the ribs with the marinade and bake for 15 minutes or until golden brown.
10. Remove and transfer to a serving plate.
11. Add a little water to the baking dish and scrap the bottom well.
12. Pour this into a small pan and cook over high flame until thick.
13. Pour this over the ribs.
14. Sprinkle the toasted sesame seeds.
15. Serve at once.
image credit: inspiredtaste.net