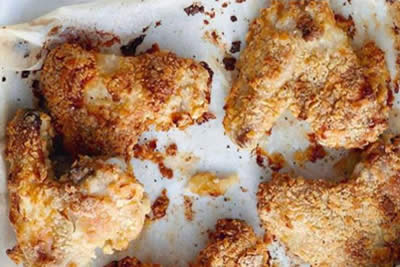 Ingredients:
Chicken Wings – 500 gms
Corn Tortillas – 1 to 2, torn into pieces or crumbled
Maida – 1/4 cup
Egg – 1, beaten
Olive Oil as required
Red Chilli Powder – 1/4 tsp
Garlic – 1 to 2 cloves, crushed
Salt as per taste
Black Pepper Powder as per taste
For the sauce:
Tomatoes – 200 gms, peeled, mashed
Pineapple Juice – 1/2 cup
Tequila – 4 tblsp
White Wine Vinegar – 1 tsp
Garlic – 1, small clove, crushed
Tabasco Sauce as per taste
Method:
1. Combine the tortillas, maida, red chilli powder and garlic in a bowl.
2. Add salt and black pepper powder. Mix well.
3. Break the eggs and whisk well in a bowl.
4. Dip the chicken wings in the egg and dredge in the tortilla mixture.
5. Place them on a baking tray lined with parchment paper.
6. Cover and keep the tray in the fridge for an hour.
7. Remove the tray and drizzle olive oil all over the chicken wings.
8. Bake the chicken in a preheated oven at 200C/400F for 30 minutes or until golden and crisp.
9. Meanwhile, mix all the sauce ingredinets in a pan over medium flame.
10. Gently simmer for 10 to 12 minutes until reduced by half.
11. Remove and transfer to a bowl.
12. Remove the chicken from the oven and transfer to a plate.
13. Serve hot with the sauce.