A traditional and authentic Kerala recipe made out of jackfruits (or dates), jaggery, coconut and rice flour wrapped in banana leaves and steam cooked.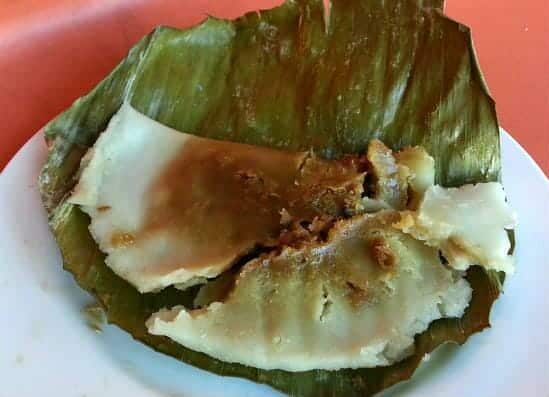 Ingredients:
Jackfruits – 10 to 15, depending on size, chopped, seeds discarded
Jaggery – 1 cup, powdered
Coconut – 1, grated
Raw Rice – 1 cup
Parboiled Rice – 1 cup
Gingelly Oil – 3 tsp
Banana Leaves – few, cut into small/medium size
Salt as per taste
Method:
1. Soak the parboiled rice and raw rice together for 3 hours.
2. Add enough salt and grind to a smooth paste.
3. Heat a pan of water (about 2 to 3 cups) over medium flame.
4. Add the jaggery and stir well until fully dissolved.
5. Remove from flame and strain into a new pan.
6. Add the chopped jackfruits and place the pan over medium flame.
7. When it starts to thicken, add the grated coconut and mix well.
8. Switch off the flame.
9. Clean and wash the banana leaves.
10. Add some of the rice batter and spread thinly.
11. Add a portion of the jackfruit mixture and fold the banana leaf well.
12. Repeat with the remaining ingredients.
13. Steam cook the prepared banana pockets in a steamer or idly maker until done or for 10 minutes.
14. Remove and serve warm.
Note: In some places jackfruit is either omitted or substituted with dates.