A quick and easy dinner or lunch dish with noodles, vegetables and tomato puree.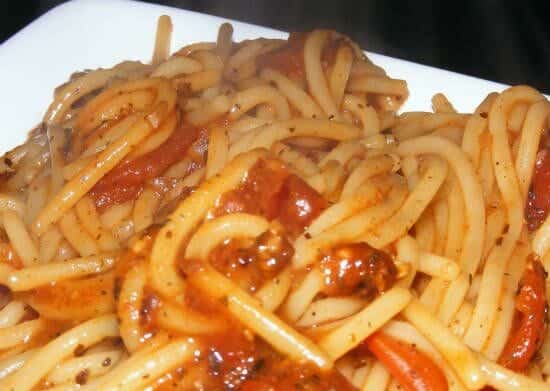 Ingredients:
Plain Noodles (or Spaghetti) – 1 packet
Tomatoes – 2
Onions – 1, finely chopped
Carrot – 1/4 cup, finely chopped
Beans – 1/4 cup, finely chopped
Green Capsicum – 1/2 cup, finely chopped, seeds removed
Ginger Garlic Paste – 1 tsp
Salt as per taste
Black Pepper Powder as per taste
Oil as required
Method:
1. Heat a pan of water over medium flame.
2. When it starts to boil, add the tomatoes and remove after 5 minutes.
3. Peel the skin and grind to a puree.
4. Heat oil in a pan over medium flame.
5. Add the ginger garlic paste and stir-fry for 30 seconds.
6. Add the onions and saute for a minute or until light golden brown.
7. Add the carrot, beans and capsicum.
8. Stir-fry for a minute.
9. Add little salt and 1/2 cup of water. Adjust water quantity as required.
10. Simmer for 30 to 45 seconds.
11. Add the noodles and tomato puree.
12. Mix well and cook until noodles are tender and done.
13. Add pepper powder and stir gently.
14. Remove from flame after a minute.
15. Serve at once.
Tip:
Some supermarkets sell a "Noodles Masala (or Noodle Taste Maker)". If available, you can also add this at step 13.
Garnish with grated cheese if desired.