These delicious and easy to make Mediterranean style Lamb Burgers are a perfect summer dish. Minced lamb is mixed with spices, grilled and served in burger buns with slices of tomato, onion, cucumber and with a salad of choice.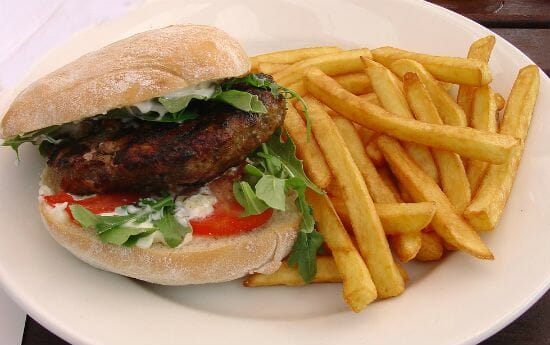 Ingredients:
Lamb – 250 gms, boneless, skinless, minced
Coriander Leaves – 1/4 cup, chopped + extra
Ginger Garlic Paste – 2 tsp
Coriander Powder – 1/2 tsp
Tomato Ketchup – 1/2 cup
Salt as per taste
Curry Powder – 1/2 tsp
Feta Cheese – 1 tblsp, crumbled
BUrger Buns – as required
To Serve:
Mayonnaise
Tomato Slices
Cucumber Slices
Onion Slices
Method:
1. Mix the minced lamb, coriander leaves, ginger garlic paste and coriander powder in a bowl.
2. Mix well until combined.
3. Shape this mixture into 2 to 4 balls and flatten them into patties of 1 inch thickness.
4. Sprinkle a little salt on each and keep aside for 5 minutes.
5. Heat a grill pan over medium flame.
6. Add a litte oil and cook the prepared patties on both sides for 5 to 6 minutes on each side.
7. Halve the buns and toast them lightly.
8. Mix the ketchup and curry powder and spread on one half. Spread mayonnaise on the other half.
9. Place the cooked patty and top up with slices of onion, tomato and cucumber.
10. Sprinkle cheese and coriander leaves on top.
11. Serve at once.