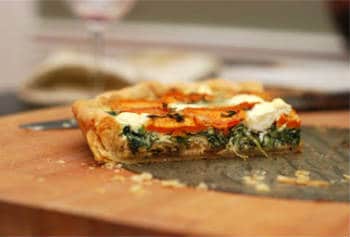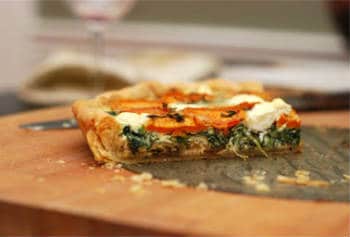 Ingredients:
Baby Potatoes – 400 gms
Baby Spinach – 100 gms, chopped
Olive Oil – 1 tblsp
Mustard Seeds – 1/2 tsp
Curry Leaves – few
Garlic – 1 clove, finely chopped
Ginger – 1/4 tsp, grated
Puff Pasty Sheet – 1
Egg – 1, small, beaten well
Yogurt – 1/4 cup
Green Chilli – 1, small, finely chopped
Red Chilli Flakes as per taste
Method:
1. Boil the potatoes in salted water for 10 minutes or until tender.
2. Drain and chop them into small pieces.
3. Heat oil in a pan.
4. Fry the mustard seeds, ginger, garlic and curry leaves for 30 seconds.
5. Add the spinach leaves and potatoes.
6. Add salt and stir well.
7. Cook for 2 to 3 minutes and remove.
8. Cut the pasty sheet into small/medium squares.
9. Place them on a baking tray lined with parchment paper.
10. Add a little water to the eggs and whisk well.
11. Brush the squares with the beaten egg mixture and bake in a preheated oven at 200C/400F for 15 minutes or until golden.
12. Remove and cool for a minute.
13. Add little yogurt to each of the squares and evenly spread.
14. Add little portion of the potato mixture.
15. Sprinkle a little red chilli flakes and drizzle with little olive oil.
16. Bake again for 10 minutes or until golden.
17. Remove and cool.
18. Serve.