Karuveppilai Kuzhambu (Curry Leaves Sambar) is a South Indian sambar variety. Curry leaves has got a lot of health and medicinal properties. A delicious and healthy kuzhambu that can be served with rice or as a side dish to pongal.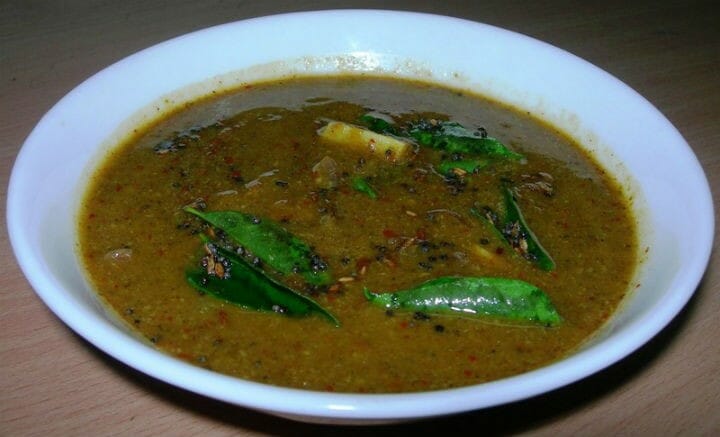 Ingredients:
Curry Leaves – 1/2 cup
Shallots – 20
Pepper – 1 tsp
Jeera – 1 tsp
Urad Dal – 1 tblsp
Red Chillies – 4
Garlic – 2 cloves
Ginger – small piece
Asafoetida – a pinch
Onion Vadagam – 1 piece
Mustard Seeds – 1 tsp
Gingelly Oil – 1 tblsp
Tamarind Water – 1 cup
Salt to Taste
Method:
Peel the outer skin of shallots and dice them.
To a pan, heat oil in medium flame.
Saute the Urad dal, pepper, jeera, ginger, garlic, red chillies and curry leaves.
Allow them to cool and grind it to fine paste.
To the same pan, heat oil in medium flame.
Add mustard seeds, asafoetida and onion vadagam and fry well.
Add the chopped shallots and fry till golden brown.
Add the tamarind water and the ground paste and mix.
Add required water and salt to taste.
Simmer the flame and cook until the kuzhambu thickens and the oil starts to oozes out.
This can be served with pongal and rice.