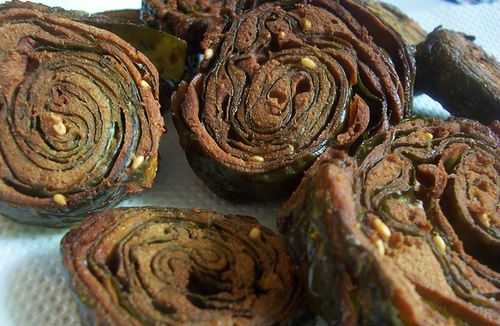 Ingredients:
(Patra) Colocasia Leaves – 10, washed, thick veins trimmed
Besan Flour – 1/2 cup
Cumin Seeds – 1/2 tsp, ground
Tamarind Extract – 1/4 cup
Turmeric Powder – 1/4 tsp
Red Chilli Powder – 1 1/2 tsp
Sugar – 1 1/2 tsp, powdered
Oil – 1/2 tblsp
Asafoetida – a pinch
Salt as per taste
For Seasoning:
Coriander Leaves – 1/2 tblsp, chopped
Coconut – 1/2 tblsp, grated
Mustard Seeds – 1/4 tsp
Cumin Seeds – 1/4 tsp
Sesame Seeds – 1/2 tsp
Oil – 1/2 tblsp
Method:
1. Roll the colocasia leaves and keep them aside.
2. Mix all the ingredients in a bowl and blend well to form a thick paste.
3. Place a tblsp of the paste apply it on the leaf surface thinly.
4. Put another leaf over it and repeat the process to make a set of 3 to 4 layered leaves.
5. Wrap the edges and roll the leaves.
6. Secure it tightly by sealing the edges with some paste.
7. Steam cook the leaves for 40 minutes.
8. Remove and cool.
9. Then cut them into 1/2 inch thick slices.
10. Heat oil in a pan and add the mustard seeds, cumin seeds and fry till it splutters.
11. Add the sesame seeds and coconut.
12. Fry for 30 seconds and add salt, sugar and chilli powder.
13. Mix well.
14. Serve the cooked patras along with the seasoning.