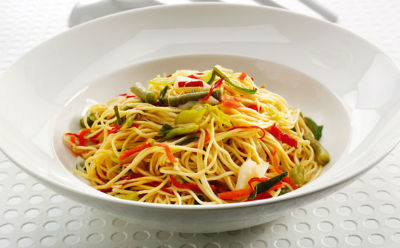 Ingredients:
Rice Noodles – 1 small pack, dried, thin
Chicken Stock – 1/3 cup
Curry Powder – 1 tblsp
Button Mushrooms – 50 gms, finely sliced lengthwise
Shrimp – 100 gms, peeled, deveined
Onion – 1/2 cup, chopped
Green Capsicum – 1/2 cup, finely sliced
Oil – 1 1/2 tblsp
Soy Sauce – 1/2 tsp
Salt as per taste
Method:
1. Heat a large pan of water over high flame.
2. Once it starts to boil add the rice noodles.
3. Switch off the flame and let it soak for 5 minutes until softened.
4. Drain the water, rinse the nooodles and drain again.
5. Transfer to a bowl and keep aside.
6. Combine the stock, curry powder, soy sauce and salt.
7. Stir well until curry powder has dissolved.
8. Heat a pan over high heat.
9. Add 1 tblsp oil and stir-fry the garlic for 10 seconds.
10. Add the shrimps and cook till firm and pink, about a minute.
11. Transfer to a bowl and keep aside.
12. Now add the onions, capsicum and mushrooms.
13. Cook till tender, about 45 seconds.
14. Transfer to the bowl containing shrimps.
15. Add the remaining oil to the pan.
16. Add the noodles and toss well for 45 seconds.
17. Add the stock mixture and stir.
18. Add the shrimp and noodles.
19. Cook until the noodles are golden.
20. Transfer to a plate and serve warm.