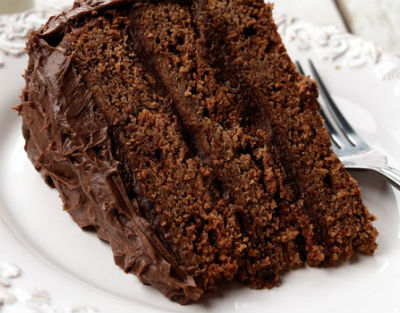 Ingredients:
Plain Chocolate – 50 gms, melted
Maida – 125 gms
Soda Bicarbonate – 1/2 tsp
Butter – 100 gms + little extra
Dark Brown Sugar – 200 gms
Vanilla Essence – 1/2 tsp
Eggs – 2, small
Buttermilk – 50 to 60 ml
Boiling Water – 125 ml
For Frosting:
Caster Sugar – 150 gms
Egg White – 1
Lemon Juice – 1/2 tblsp
Orange Juice – 1 1/2 tblsp
Orange Peel – for garnish (optional)
Method:
1. Combine and sift the maida and soda bicarb together.
2. Beat together butter and sugar in a bowl till fluffy.
3. Add the vanilla essence and eggs.
4. Beat well.
5. Add a little flour if the mixture starts to curdle.
6. Add the melted chocolate and blend well.
7. Add the flour, buttermilk and boiling water.
8. Mix well.
9. Divide the mixture between 2 greased cake tins.
10. Place them in a preheated oven at 190C/375F for 20 to 30 minutes.
11. Remove and cool.
12. Combine the frosting ingredients in a bowl over a pan of simmer water.
13. Whisk until soft peaks form.
14. Remove from heat and whisk till the mixture is cool.
15. Cut the cake into slices and then into halves.
16. Spread the frosting on one half and cover with the other half.
17. Spread some more frosting on the sides and top.
18. Garnish with orange peel.
19. Serve.