Best served with tomato salad.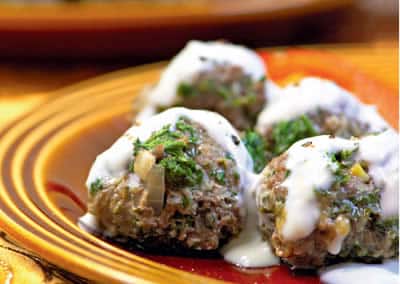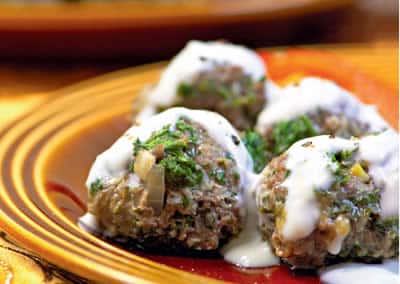 Ingredients:
Lamb or Beef – 250 gms, ground
Onion – 1, small, grated
Plain Yogurt – 1/2 cup
Garlic Paste – 1/2 tsp
Extra-Virgin Olive Oil – 2 tblsp
Parsley – 1 cup, finely chopped
Cumin Powder – a pinch
Black Pepper Powder – 1/4 tsp + 1/4 tsp
Coriander Powder – a pinch
Garam Masala Powder – a pinch
Red Chilli Powder – a small pinch (adjust as per taste)
Salt as per taste
Coriander Leaves – few, chopped, to garnish
Method:
1. In a lage bowl, mix the lamb, onion, cumin powder, little salt, 1/4 tsp black pepper powder, garam masala powder, red chilli powder parsley and coriander powder.
2. Mix thoroughly and shape the mixture into small balls.
3. Keep aside.
4. In a separate bowl, mix the yogurt, 1/4 tsp pepper powder, a pinch of salt and garlic.
5. Keep this in the fridge for 30 to 60 minutes or unitl required.
6. Heat oil in a pan over medium flame.
7. Add the meatballs, few at a time, and cover the pan with a lid.
8. Reduce flame to low and cook for 20 to 30 minutes.
9. Stir from time to time, adding more oil if required.
10. Remove and transfer the cooked meatballs to a serving dish.
11. Pour the prepared yogurt mixture on top.
12. Garnish with coriander leaves.
13. Serve at once.