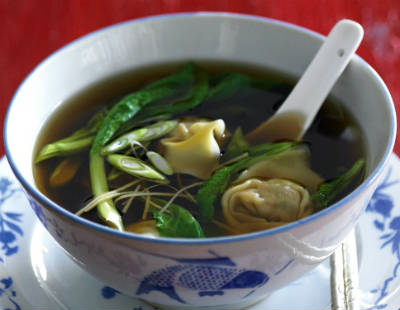 Ingredients:
Egg Noodles – 8 cups, cooked
Ginger – 2 two inch pieces, sliced
Spring Onions – 4 tblsp
For the Wontons:
Chicken – 300 gms, ground
Prawns – 10 to 12, shelled, chopped
Mushrooms – 3 to 4, chopped
Cornstarch – 2 tblsp
Soy Sauce – 2 tsp
Sesame Oil – 2 tsp
White Pepper Powder – 1/2 tsp
Wonton Wrappers as required
Sugar – 1 tsp
Salt – 1 tsp
For the Soup:
Chicken Stock – 4 litres
Ginger – 2 two inch pieces
Star Anise – 4
Soy Sauce – 2 tblsp
Salt as per taste
Sugar – 1/2 tsp
Method:
1. Mix all the wonton ingredients in a bowl.
2. Add 1 or 2 tsp of the mixture in the center of a wrapper and fold to make a triangle. Seal the edges using little water.
3. Repeat until all fillings are used.
4. Keep aside in a fridge until required.
5. To make the soup, add all the ingredients into a pot.
6. Bring to a boil and then simmer for 30 minutes.
7. Strain and discard the solids.
8. Bring to a boil again and add the wontons.
9. Cook for 3 to 5 minutes or until the wontons float to the top.
10. Divide the noodles among serving bowls.
11. Add the soup and wontons.
12. Garnish with ginger slices and spring onions.
13. Serve at once.
image credit: taste.com.au