Tikha Gathiya (Teekha Gathiya) is a popular gujarati tea time snack. Gathiya is a spicy and crunchy deep fried savoury. It is an excellent snack for kids lunch box and during travel.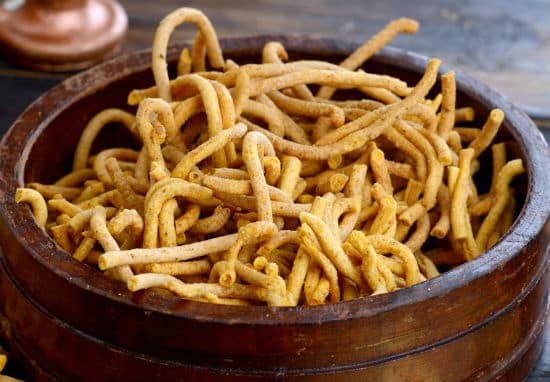 Ingredients:
Gram flour – 1 cup
Ajwain – 1/2 tsp
Black Pepper Powder – 1/2 tsp
Baking soda – a small pinch
Turmeric Powder – a pinch
Red Chilli Powder – 1/2 tsp
Oil – for deep frying
Water as required
Salt – to taste
Method:
1. Take a large bowl and seive gram flour, red chilli powder, pepper powder, baking soda, turmeric powder, ajwain, salt and 1 tsp oil.
2. Gradually add water and mix into a smooth dough.
3. Heat oil in a frying pan over medium flame till hot.
4. Meanwhile take a handy mould (used to make thick sev with big holes) and fill it with a small portion of the dough.
5. Gently press the mould in circular motion over the heated oil.
6. Fry the strands for 2 to 3 minutes.
7. Remove ghathia from oil after they turn light brown colour and drain excess oil.
8. Store them in an airtight container.
Image via YouTube