Cheeselings are a popular teatime snack. These homemade cheeselings at easy to make and crunchy, they are popular with kids and can be served as an evening afterschool snack.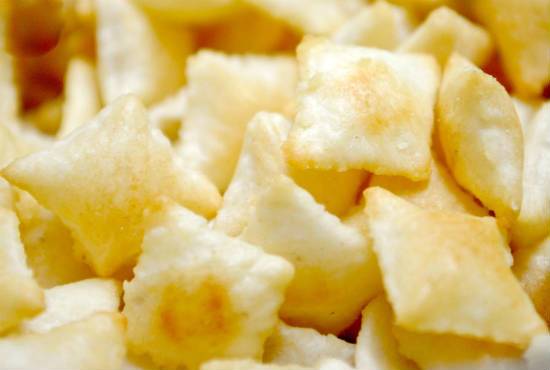 Ingredients:
Maida – 1 1/2 cups
Gram Flour – 1/2 cup
Cheese – 50 gms, grated
Red Chilli Powder – 1 tsp
Dry Ginger Powder – 1/2 tsp
Black Pepper Powder – 1/2 tsp
Salt – 3/4 tsp
Buttermilk – 1/4 cup
Milk as required
Oil as required
Method:
1. Combine the first seven ingredients in a bowl.
2. Add 3 tsp of warm oil, buttermilk and enough milk.
3. Mix well to a poori dough consistency.
4. Keep aside for 15 to 30 minutes.
5. Make small balls and roll them out into small/medium puris.
6. Using a diamond shape cutter, cut them into small diamonds.
7. Heat oil in a deep frying pan.
8. Fry the prepared cheeselings in batches, until light golden and crispy.
9. Remove and drain excess oil.
10. Store in an airtight container.
11. Serve as a snack.