A simple and yummy snack ideal during rainy days or can be served as an evening snack with tea.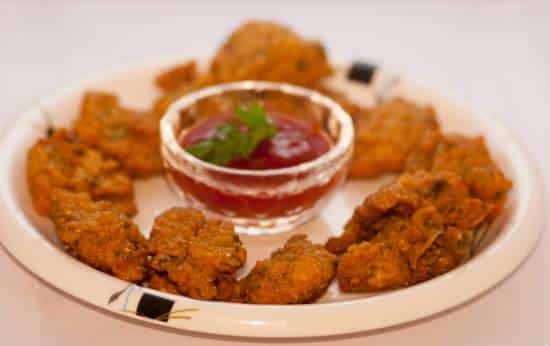 Ingredients:
Oats – 1 cup
Roasted Gram Flour – 1/2 cup
Raw Rice Flour – 1/2 cup
Onions – 2 cups, chopped
Coriander Leaves – big handful, chopped
Green Chillies – 5 to 6, chopped
Ginger – 1 inch piece, peeled, finely chopped
Curry Leaves – few
Garlic – 6 to 8 cloves
Butter – 2 tsp
Salt as per taste
Oil as required
Method:
1. Soak the oats for 1 hour in warm/hot water.
2. Drain excess water and transfer to a large bowl.
3. Add gram flour, rice flour, onions, coriander leaves, salt, green chillies, curry leaves, ginger, garlic and butter.
4. Mix well until a thick batter is formed.
5. Heat oil in a frying pan over medium flame.
6. Drop small portions of the batter and fry until golden brown and crispy.
7. Remove and drain excess oil.
8. Serve as a snack.