Snake Gourd or Pudalangai is a popular South Indian vegetable often used to make kootu. It is low in calories, rich in fiber, calcium, magnesium and is good for those suffering from diabetics and heart diseases.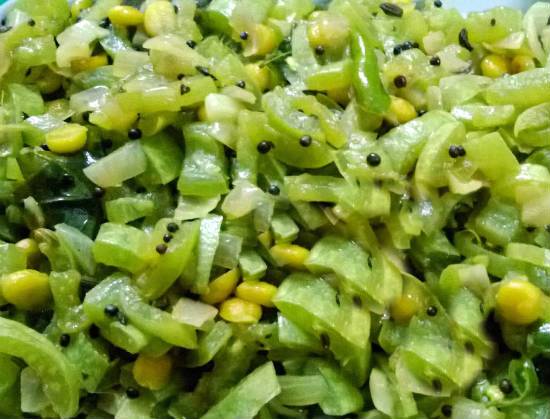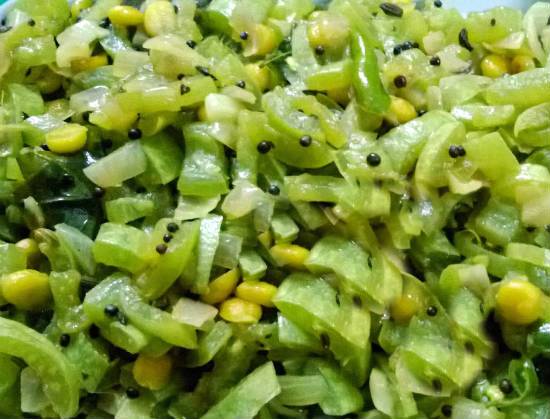 Ingredients:
Pudalangai (Snake Gourd) – 500 gms
Oil – 1 tblsp
Turmeric Powder – 1/4 tsp
Salt as per taste
Mustard Seeds – 2 tsp
Urad Dal – 2 tsp
Green Chilli – 1, chopped (optional)
Dry Red Chillies – 4 to 6
Asafoetida Powder – 1/8 tsp
Curry Leaves – few
Method:
1. Wash and chop the snake gourds into small pieces. Discard the seeds and creamy white flesh.
2. Heat oil in a pan over medium flame.
3. Add the mustard seeds and fry for 30 seconds.
4. Add urad dal, red chillies, curry leaves and asafoetida powder.
5. Fry for 45 seconds and add the chopped snake gourd pieces.
6. Add turmeric powder and stir well.
7. Cover the pan with a lid and cook for a minute.
8. Add salt and sprinkle a little water.
9. Stir again and cook, covered, for another 10 minutes. Stir from time to time.
10. When the snake gourds are cooked, remove from flame and transfer to a serving dish.
11. Serve as a side dish with rice, sambar and rasam.