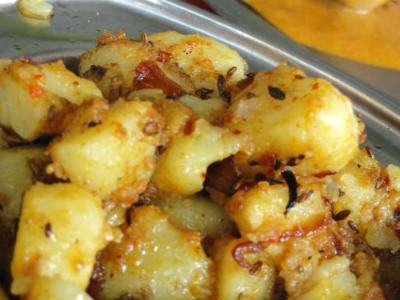 Ingredients:
Potatoes – 2 to 3, par-boiled, peeled, cubed
Mustard Oil – 2 tblsp
Red Chilli Powder – 1/2 tsp
Coriander Powder – 1/2 tsp
Turmeric Powder – 1/4 tsp
Asafoetida Powder – a small pinch
Salt as per taste
Cumin Seeds – 1/2 tsp
For tempering:
Mustard Oil – 2 tsp
Dry Red Chillies – 2
Coriander Leaves – 2 tsp, chopped
Lemon Juice – 2 tblsp
Method:
1. Heat oil in a pan over medium flame.
2. Combine the chilli powder, coriander powder and turmeric powder with little water to make a thick paste.
3. Add the asafoetida powder and cumin seeds to the pan.
4. Fry for a minute and add the masala paste.
5. Fry for another minute or two.
6. Add the potatoes and stir to mix well.
7. Sprinkle salt and add 2 to 3 tbp of water.
8. Reduce flame to low and cover the pan with a lid.
9. Cook for a minute and stir well.
10. Meanwhile, heat oil for tempering.
11. Fry the tempering ingredients (except lemon juice) and fry for a minute.
12. Pour over the potatoes and add lemon juice.
13. Mix well and serve as a side dish.