Pongal is a popular breakfast dish across Tamil Nadu. Typically pongal is made with rice, but this healthy variation is made with Thinai (Foxtail Millet). Foxtail Millet (Thinai) is good for those with Diabetes. It regulates cholesterol levels, removes acidic elements from the body, cures digestive disorders, aids proper digestion and because it is rich in dietary fiber, it is good for indigestion.
Serve this tasty and healthy pongal with sambar and chutney of choice.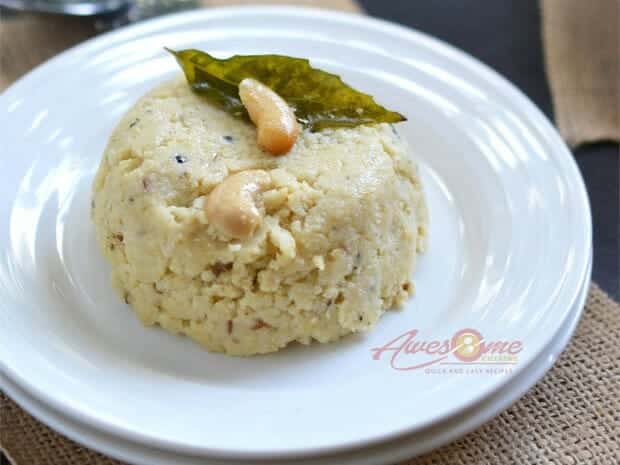 Ingredients:
Thinai (Foxtail Millet) – 1 cup
Moong Dal – 1/2 cup
Black Peppercorns – 1 tsp
Coarse Cumin Powder – 1 tsp
Ghee – 2 tblsp
Cashew Nuts – 2 tblsp
Ginger – 1 tsp, grated
Curry Leaves – handful
Salt as per taste
Method:
1. Dry roast the moong dal and thinai separately for a minute. Do not let them burn.
2. Combine these two and transfer to a pressure cooker.
3. Pour 3 to 4 cups of water and pressure cook until 2 to 3 whistles.
4. Wait until the pressure has reduced and open the lid.
5. Add salt and mix well.
6. Heat ghee in a pan.
7. Add curry leaves, peppercorns, ginger, cumin powder and cashew nuts.
8. Fry until golden and pour into the pongal.
9. Stir gently and serve with chutney of choice.