A popular South Indian snack made during most festivals and weddings.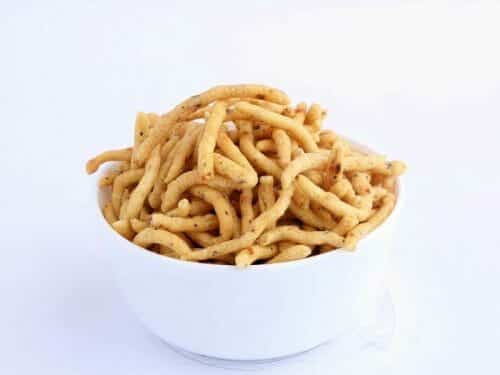 Karasev or Kara Sev is a South Indian savoury snack made during festivals like Diwali, Navratri, Janmashtami and is an common dish in the South Indian weddings.
Crunchy, crispy and a simple snack, it is highly addictive and flavourful. Karasev can be served as an evening snack, accompaniment to a meal or as a teatime snack.
Commonly found in all sweet shops across the country, traditionally this snack is made by rubbing the dough through a ladle with holes over hot oil. These days it is common to find people using murukku press as it is less riskier with hot oil
However with practice, skill and the right equipment, you can do it using the traditional method. But please do take enough precautions.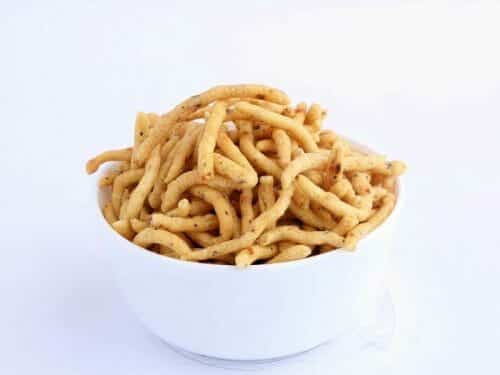 Karasev
A popular South Indian snack made during most festivals and weddings.
Ingredients
1

cup

Rice Flour

4

cup

Gram Flour (Besan)

1

tsp

Black Pepper Powder

1

tsp

Red Chilli Powder

2

tsp

Salt

1

tsp

Asafoetida Powder

50

g

Butter

1 1/2

tbsp

White Sesame Seeds

500

ml

Oil

as required

Water
Instructions
Sieve the rice flour and gram separately.

Combine together in a bowl.

Add salt, pepper powder and asafoetida powder.

Mix well.

Add sesame seeds and butter.

Sprinkle a little water and mix well to a thick dough.

Heat oil in a deep frying pan over medium flame.

Rub the dough on a kara sev plate (or a ladle with big holes) over hot oil. You can also use a murukku press if you are not comfortable with the ladle / plate.

Fry till light golden brown and remove.

Drain excess oil.

Store in an airtight container.

Serve as a snack.
Notes
Kara Sev plate can be bought from most utensil shops.
Please be careful while rubbing the dough on hot oil.
Variations of Karasev
There are several variations to this traditional recipe. Some of them are:
Sweet Karasev – Sugar or jaggery is added.
Poondu Karasev / Garlic Kara Sev – One of the most popular variety where 10 Long red chillies, 3 garlic cloves and 1 tsp of black pepper are ground to a paste and mixed with the dough.
Rava Karasev – Sooji or rava is used.
Masala Karasev – Cumin power, coriander powder and other spices (as desired) are added in small quantities.
Pepper Karasev – Most common variation where crushed black peppercorns are added.