Methi Na Gota (or Methi Gota) is a traditional Gujarati snack popular during monsoon and winter season and served during teatime.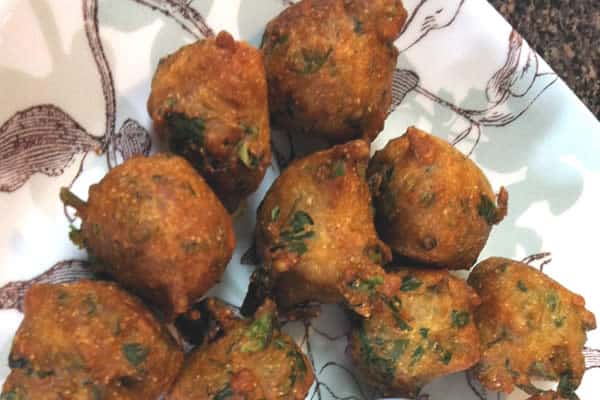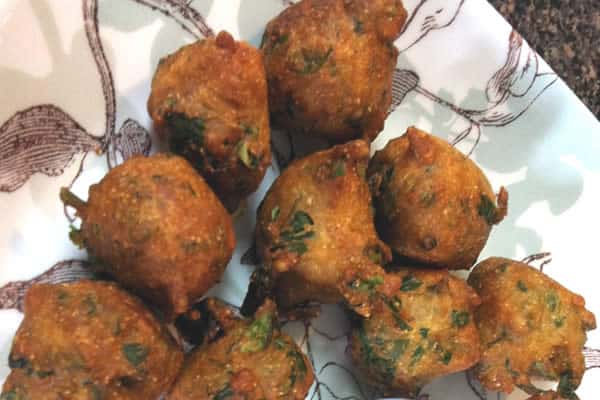 Ingredients:
Besan (Gram Flour) – 3 cups
Whole Wheat Flour – 1 cup
Green Chillies – 6 to 8, depending on size, chopped
Fenugreek Leaves – 2 to 3 cups, finely chopped
Coriander Leaves – 1 cup, finely chopped (optional)
Garlic – 6 to 8 cloves
Curd – 1/2 tblsp
Red Chilli Powder – 1 tsp
Turmeric Powder – 1 tsp
Asafoetida Powder – 1/2 tsp
Garam Masala Powder – 2 tsp
White Sesame Seeds – 4 tsp
Coriander Powder – 2 tsp
Black Pepper Powder – 2 tsp (adjust as required)
Oil for deep frying
Salt as per taste
Sugar as per taste
Method:
1. Mix the besan and wheat flour in a large bowl.
2. Add fenugreek leaves, coriander leaves 3 to 4 tsp salt, 2 tsp sugar, red chilli powder, turmeric powder, garam masala powder, asafoetida powder, sesame seeds, coriander powder and pepper powder.
3. Mix well.
4. Grind the green chillies and garlic to a smooth paste.
5. Add to the bowl along with curd.
6. Mix well without any lumps to a thick batter.
7. Heat oil in a deep frying pan.
8. Add 1 to 2 tsp oil to the batter and mix well.
9. Drop small portions (medium sized balls) of the batter into the hot oil and fry until golden brown.
10. Remove and drain excess oil.
11. Serve hot with green chutney.