A great appetizer for any parties, special occasions or any weekend lunch or dinner.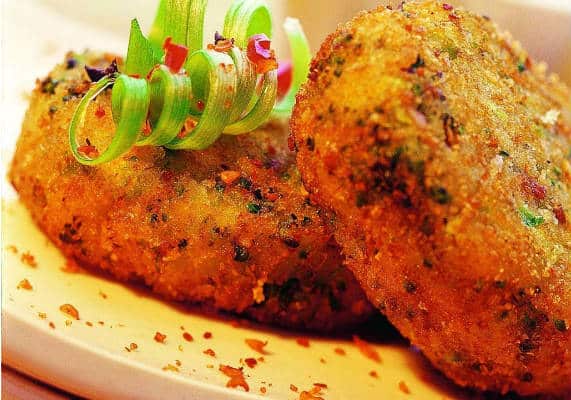 Ingredients:
Paneer – 500 gms, crumbled
Potatoes – 3
Fenugreek Leaves – a small bunch, finely chopped
Maida – 1/4 cup + 2 tblsp
Green Chillies – 3, finely chopped
Coriander Leaves – handful, finely chopped
Garam Masala Powder – 1 tsp
Lemon Juice – 3 tsp
Red Chilli Powder – 1 tsp
Rusk – 1/2 cup, powdered
Oil as required
Salt as per taste
Method:
1. Boil the pototoes. Peel and mash well.
2. Combine the paneer, potatoes, 3 tblsp maida, coriander leaves, fenugreek leaves, green chillies, garam masala powder, lemon juice, red chilli powder and salt in a bowl.
3. Mix well.
4. Add water to the remaining maida and mix to a thin batter.
5. Make small balls of the mixture and shape them into tikkis of desired shapes.
6. Heat oil in a frying pan.
7. Dip the tikkis in the batter and roll them in the powdered rusk.
8. Fry them until golden brown.
9. Remove and drain excess oil.
10. Serve with ketchup or mint chutney.
image via tarla dalal