Mini Samosas or Samsa (as it is called locally) is a very popular snack suitable for any occasion. Typically it is served as a teatime snack, but it is ideal for any occasion including parties or sunday brunch.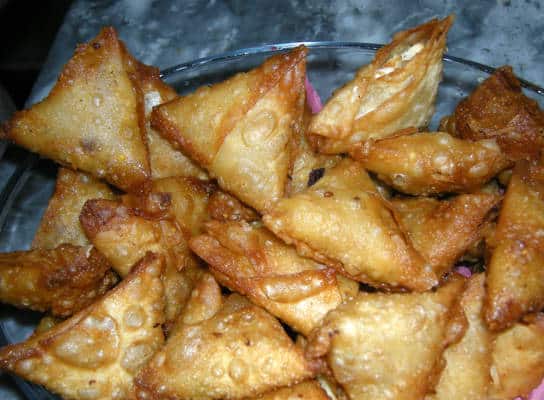 Ingredients:
Maida – 250 gms
Ghee – 150 gms
Oil
Salt as per taste
For the Filling:
Potatoes – 4, boiled and mashed
Onion – 1, finely chopped (optional)
Cinnamon – 1/2 tsp
Oil – 4 tsp
Ajwain (Carom Seeds) – 1/4 tsp
Salt as per taste
Method:
1. Heat oil in a pan.
2. Add the mashed potatoes, onions, cinnamon, carom seeds and salt.
3. Stir-fry for 2 to 3 minutes.
4. Keep aside.
5. Sift together the maida, salt and ghee
6. Mix well till it resembles breadcrumbs.
7. Add just enough water to knead into a dough.
8. Divide the dough into 12 to 14 portions.
9. Roll out each portion into a very thin chapatti.
10. Cut 3 inches broad strips from each chapatti so as to get 2 to 3 such strips.
11. Pick up one strip at a time.
12. Place a portion of the filling in the centre of the strip and roll over the filling 3 to 4 times so that the final product is a triangular shaped samosa with various layers.
13. Prepare samosa from the different strips.
14. Roll out another portion and again cut into strips and prepare the layered samosas in this way.
15. Heat oil in a pan on medium heat.
16. Fry the samosas a few at a time so that these are crispy and golden brown.
17. Serve hot with chutney or sauce.