A delicious crispy snack.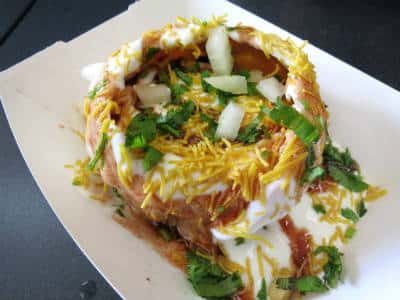 Ingredients:
Maida – 1 cup
Ghee – 2 tblsp, melted
Moong Dal – 1/4 cup
Cumin Seeds – 1/2 tsp
Asafoetida Powder – a pinch
Ginger – 1/4 tsp, minced
Green Chillies – 1/4 tsp, minced
Coriander Powder – 1/4 tsp
Garam Masala Powder – 1/2 tsp
Red Chilli Powder – 1/2 tsp
Mango Powder – 2 tsp
Gram Flour – 1 tblsp
Oil as required
Salt as per taste
Method:
1. Mix maida and ghee in a bowl.
2. Add 1/4 tsp salt and little water.
3. Knead well to a firm dough.
4. Make small balls of the dough and keep aside.
5. Heat 1 to 2 tblsp oil in a frying pan over medium flame.
6. Add cumin seeds and asafoetida powder.
7. Fry for 30 seconds.
8. Add the moong dal and fry for a minute.
9. Now add the green chilli paste, ginger paste, garam masala powder, gram flour, red chilli powder, mango powder, coriander powder and salt.
10. Mix well and cook for 5 to 6 minutes.
11. Roll the dough into small/medium circle and add 1 or 2 tsp of the filling in the center.
12. Fold well and roll again ensuring the filling does not come out.
13. Heat oil in a deep frying pan over medium flame.
14. Fry the prepared kachoris until golden brown on both sides and puffed up.
15. Remove and drain excess oil.
16. To serve, crack a hole in the centre of the kachori.
17. Add 2 to 3 tblsp of beaten curd.
18. Add green chutney, sweet tamarind chutney, red chilli powder, onions, cumin powder, coriander leaves and salt on top.
19. Garnish with sev and serve.