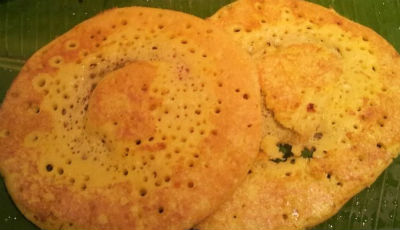 Ingredients:
Parboiled Rice – 3 cups
Urad Dal – 3/4 cup
Vendhayam (Fenugreek Seeds) – 2 tsp
Salt as per taste
Method:
1. Dry roast the rice in a pan for a minute or two.
2. Soak the rice in warm water.
3. Soak the vendhayam and dal separately in water.
4. Soak all the three for 3 hours.
5. First, grind the dal and then add the vendhayam.
6. Grind for 15 to 20 minutes and remove to a bowl.
7. Grind the rice to a smooth batter and mix with the reserved vendhayam-dal batter.
8. Mix well and keep aside for 8 hours.
9. Heat a tawa over medium flame.
10. Apply oil all over the tawa and pour a ladleful of the batter.
11. Spread well and cook without adding oil.
12. Cook on both sides till light brown.
13. Transfer to a serving plate.
14. Sprinkle very little water on the dosai and serve with chutney or sambar.
15. Serve hot or warm.
image credit: teamfiat.co.in