Idly 65 is the vegetarian twist on the popular 65-style dishes, offering crispy and tangy marinated idlies that will leave your taste buds craving more.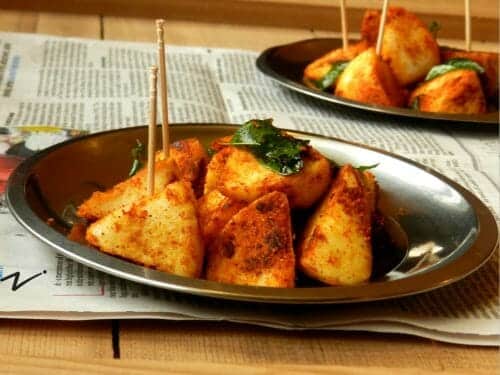 Idly 65 is a delightful twist on the classic South Indian breakfast favourite. This innovative and mouthwatering recipe takes soft and fluffy idles and transforms them into a crispy and flavorful appetizer or snack. The idles are marinated in a spicy and tangy sauce, coated with a crunchy batter, and then deep-fried to perfection. Each bite is a burst of flavours, combining the traditional charm of idlies with the bold and spicy notes of the 65-style marinade.
Idly 65 is the perfect fusion dish that combines the comforting familiarity of idlers and the indulgent appeal of the popular 65-style preparations. It is a fantastic option for those who enjoy the crispy textures and bold flavours of dishes like Chicken 65 or Gobi 65 but prefer a vegetarian alternative. Idly 65 can be served as an appetizer, snack, or even party finger food to impress your guests with its unique presentation and taste.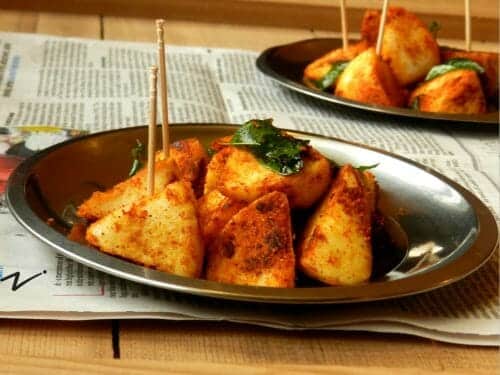 Idly 65

Recipe

Idly 65 is the vegetarian twist on the popular 65-style dishes, offering crispy and tangy marinated idlies that will leave your taste buds craving more.
Ingredients for
Idly 65
8 to 10

Leftover Idlis

1

tbsp

Red Chilli Powder

1/4

cup

Corn Flour

3

tsp

Ginger Garlic Paste

handful

Curry Leaves

5 to 6

tbsp

Maida (Plain Flour)

1

tbsp

Cumin Powder

1

tsp

Garam Masala Powder

1

tsp

Ajwain (Omam Powder)

200

ml

Oil

Juice of 1 Lemon

as per taste

Salt
How to make
Idly 65
If you are using freshly made idlis, allow them to cool completely.

Dice the idlis into 5 to 8 pieces per idli.

Mix the maida, corn flour, cumin powder, red chilli powder, salt, garam masala powder, ajwain powder and ginger garlic paste in a bowl.

Add enough water and mix well.

Add the idli pieces and mix gently, ensuring the pieces are evenly coated.

Heat oil in a deep frying pan over medium flame.

Fry the marinated idlis and remove.

Separately fry the curry leaves and remove.

Sprinkle this over the idlis and drizzle with the lemon juice.

Serve at once.
Frequently Asked Questions about Idly 65
Can I make Idly 65 without deep-frying?
While deep-frying gives Idly 65 its signature crispy texture, you can achieve a similar result by pan-frying or shallow-frying the marinated idlies. Heat a non-stick pan with oil and cook the idlies on medium heat until they turn golden and crispy. Flip them gently to ensure even cooking. This method is a healthier alternative to deep-frying but may give a different level of crispiness. However, the flavours will still be delicious, and it's a great option if you prefer a lighter version.
What can I serve with Idly 65?
Idly 65 is a versatile dish that can be enjoyed as an appetizer or snack. However, if you want to create a complete meal or serve it as part of a more extensive spread, you can pair it with various accompaniments. Some popular options include coconut chutney, mint chutney, tomato chutney, or even tangy tamarind chutney. These dips complement the flavours of Idly 65 and add an extra burst of taste. You can also serve it alongside sambar, a traditional South Indian lentil soup, for a more substantial meal.