Idly 65 (or Idli 65) is a great way to use up any leftover idlis. Make them into a simple, easy to make, tasty snack that kids and adults will love.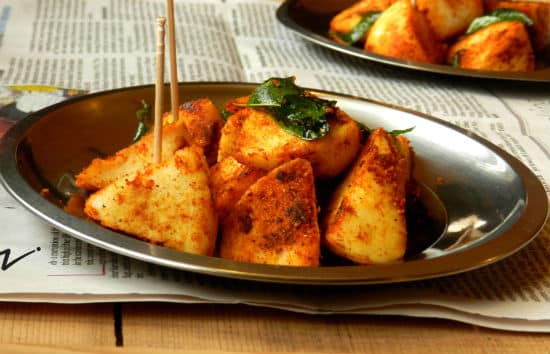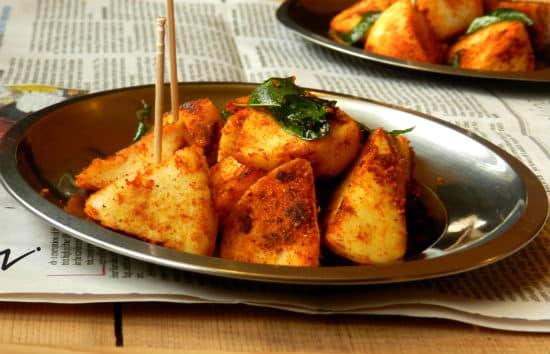 Ingredients:
Leftover Idlis – 8 to 10
Red Chilli Powder – 1 tblsp
Corn Flour – 1/4 cup
Ginger Garlic Paste – 3 tsp
Curry Leaves – handful
Maida (Plain Flour) – 5 to 6 tblsp
Cumin Powder – 1 tblsp
Garam Masala Powder – 1 tsp
Ajwain (Omam) Powder – 1 tsp
Oil – 200 ml
Juice of 1 Lemon
Salt as per taste
Method:
1. If you are using freshly made idlis, allow them to cool completely.
2. Dice the idlis into 5 to 8 pieces per idli.
3. Mix the maida, corn flour, cumin powder, red chilli powder, salt, garam masala powder, ajwain powder and ginger garlic paste in a bowl.
4. Add enough water and mix well.
5. Add the idli pieces and mix gently, ensuring the pieces are evenly coated.
6. Heat oil in a deep frying pan over medium flame.
7. Fry the marinated idlis and remove.
8. Separately fry the curry leaves and remove.
9. Sprinkle this over the idlis and drizzle with the lemon juice.
10. Serve at once.