Graham Crackers are a popular American snack similar to a biscuit. Loved by kids, these homemade snacks are easy to make and healthy too.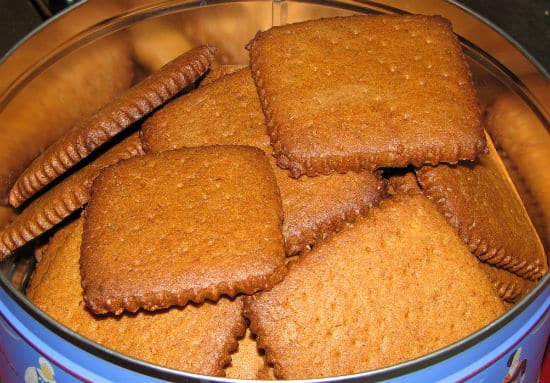 Ingredients:
Maida (Plain Flour) – 1 cup
Whole Wheat Flour – 4 tblsp
Brown Sugar – 1/2 cup
Baking Soda – 1/2 tsp
Salt – 1/4 tsp
Butter – 1/4 cup
Milk – 2 tblsp
Honey – 2 tblsp
Vanilla Essence – 1 1/2 tsp
Method:
1. Combine the maida, wheat flour, baking soda, brown sugar and salt in a bowl.
2. Add the butter and mix until the mixture is crumbly.
3. Add the milk, honey and vanilla essence.
4. Mix well.
5. Knead gently and make equal sized balls.
6. Wrap them in cling film and keep it in the fridge for 35 to 60 minutes.
7. Sprinkle some flour on a flat surface.
8. Roll the dough into a large square and cut into 2 inch squares using a cookie cutter.
9. Place them on a tray lined with parchment paper.
10. Prick lightly with a fork.
11. Place the tray into a preheated oven at 350F/175C for 5 minutes or until crisp and lightly browned at the top.
12. Remove and cool.
13. Store it in an airtight container.