Christmas is just around the corner. With only a few days left, the best thing about Christmas is not only Santa Claus or celebration with family, it is also about good food.
Making a Christmas dinner can be a stressful activity even for those who have done it many times before.
Here are a few simple tips for the perfect, stress-free Christmas dinner.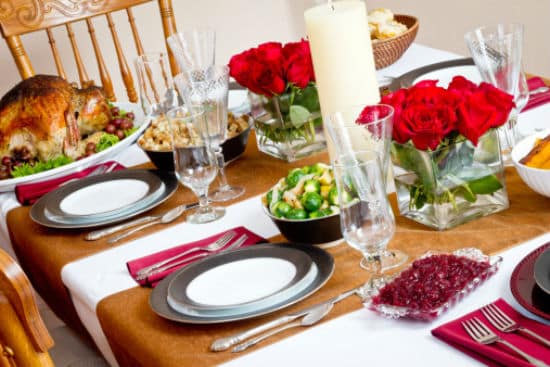 Plan Ahead:
Before you start cooking, find out what you are going to cook, for how many people and make a grocery list for your Christmas dinner. Make a list of what you have and what you need to buy. Start the shopping a good week in advance and finish buying the ingredients to prevent last-minute rush. The last thing you want to do is run out of stuff or not have the essential ingredient that a recipe needs.
Make Food Ahead of Time:
You do not have to make everything on the D-day. Things like masalas, sauces, desserts and toppings can be made well in advance. So choose your recipes wisely and try to make as much as possible well in advance. This will help you cut down on the kitchen time and you can spend more time with your family and friends.
Keep it Simple:
Follow the K.I.S.S. (Keep it small and stupid) principle. Christmas dinner need not be very elaborate. You do not have to cook a number of dishes or make complicated ones either. Christmas is all about spending time with family and friends. A good and simple meal will do just fine.
Delegate:
No matter how good you are, you cannot do everything by yourself. Trying to do everything by yourself can be exhausting – physically and mentally. Delegate things that can be done by others. Focus on the most important tasks and let others take care of the rest.
Safety:
To ensure you and your family have a safe Christmas, take adequate and extra precaution. Here are some guidelines that you can follow.
Do not place the candle near any flammable objects.
Do not place lighted candles where things can fall on it or can be knocked over by kids or pets.
Inspect lights and decorations before use. Check for broken wires or bulbs, and discard if faulty.
Insert plugs into outlets properly. Do not overload the sockets.
Keep your kitchens free from cockroaches that spread food poisoning. For cockroaches your kitchen is a perfect hiding place. They crawl in through drains and hide in nooks and corners of the kitchen. They come out of their hiding place in the night and crawl all over uncovered food and utensils contaminating them, consuming anything from these contaminated utensils cause food poisoning. So use Lal HIT and say no to food poisoning.
Happy cooking, a Merry Christmas, and a Happy New Year!