Indulge in the perfect blend of crunch and chewiness with our Oatmeal Cookies. Packed with almonds, these treats are a delightful symphony of textures and flavours.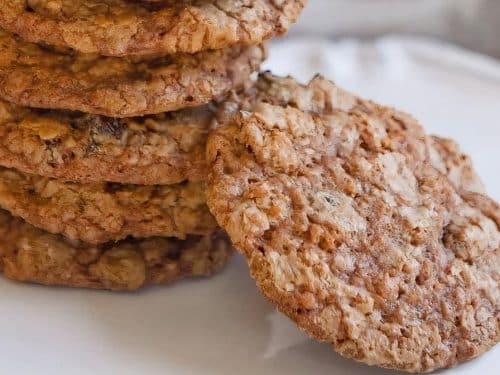 Embark on a cookie adventure with our Oatmeal Cookies, a classic treat with a delightful twist. The combination of rolled oats, almonds, and a touch of cinnamon creates a symphony of flavours and textures that will leave your taste buds craving more.
About the Recipe
Our Oatmeal Cookies recipe is a celebration of simplicity and wholesome goodness. These cookies balance crispy edges and a soft, chewy centre, making them an ideal treat for any occasion. Including almonds adds a delightful crunch, elevating these cookies to a new level of deliciousness.
Why You Will Love This Recipe
Our Oatmeal Cookies will undoubtedly become a favourite if you're a cookie enthusiast. The medley of flavours, from the nutty almonds to the warmth of cinnamon, creates a sensory experience that is both comforting and indulgent. Baking a batch of these cookies promises a delightful moment of self-care.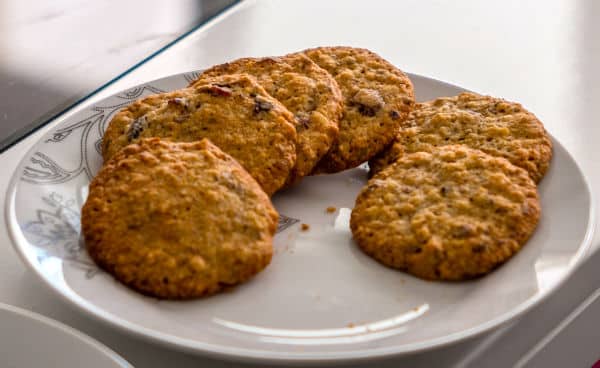 Cooking Tips
Ensure your butter is softened but not melted for the perfect Oatmeal Cookies. This ensures the right texture. Also, don't skip lightly flattening the cookie dough balls before baking—it contributes to the ideal crispiness and chewiness.
Serving and Storing Suggestions
Serve these Oatmeal Cookies with a glass of cold milk for a classic pairing. If storing, keep them in an airtight container to preserve their freshness. These cookies maintain their quality for up to a week, but they are so delicious that they rarely last that long!
Other Similar Recipes
Enjoy our Nutty Chocolate Chunk Cookies or Classic Almond Biscuits if you're a fan of textured cookies. These recipes share the theme of incorporating nuts to enhance the cookie experience.
Nutrient Benefits
While these cookies are a delightful treat, the almonds contribute healthy fats, and oats bring in fibre, making our Oatmeal Cookies a guilt-free indulgence.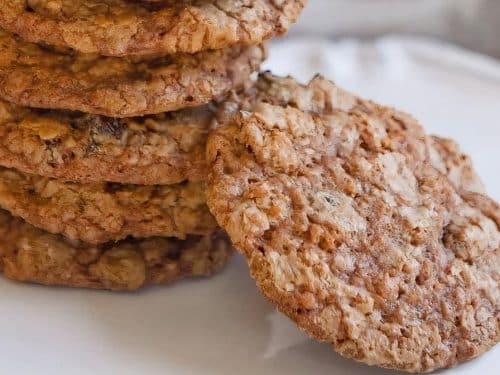 Oatmeal Cookies
Indulge in the perfect blend of crunch and chewiness with our Oatmeal Cookies. Packed with almonds, these treats are a delightful symphony of textures and flavours.
Ingredients
3

cups

Rolled Oats

Almonds (or Walnuts – 1/2 to 1 cup, chopped)

2

cups

All-Purpose Flour (Maida)

1

cup

Unsalted Butter (softened)

1

cup

Light Brown Sugar

2

Eggs (large)

1

cup

Sugar

3

tsp

Vanilla Extract

1

tsp

Baking Soda

1/2

tsp

Salt

1/2

tsp

Cinnamon Powder
Instructions
In a bowl, mix sugar, brown sugar, and softened butter. Beat until smooth.

Add eggs and vanilla extract. Beat until well blended.

Mix baking soda, cinnamon, salt, and flour in another bowl.

Add the dry ingredients to the egg mixture, beating until evenly combined.

Add rolled oats and chopped almonds, beating until well mixed.

Place small balls of the mixture on a parchment-lined baking tray.

Lightly flatten the balls and bake in a preheated oven at 350F/175C for 5 to 10 minutes or until golden brown around the edges.

Remove from the oven and let them cool.

Serve or store in an airtight container. These cookies stay fresh for up to a week.
Frequently Asked Questions:
Can I use walnuts instead of almonds in the Oatmeal Cookies?
Certainly! The recipe allows for flexibility in nut choices. Whether almonds or walnuts, both add a delightful crunch to these cookies.
What gives the Oatmeal Cookies their chewy texture?
The combination of rolled oats and the right amount of butter contributes to the chewy goodness of these cookies—the secret lies in the balance of ingredients.
Can I freeze the Oatmeal Cookie dough for later use?
Form the cookie dough into balls, freeze them on a tray, and then transfer to a freezer bag. When ready to bake, place the frozen dough balls on a tray and bake as usual.