Rich in fiber content, these cookies made with oats are a great healthy snack for anytime.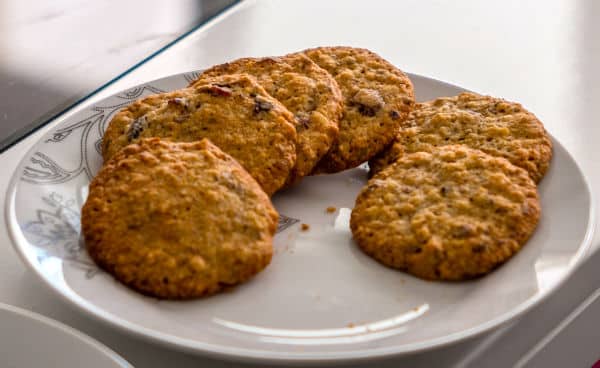 Ingredients:
Rolled Oats – 3 cups
Almonds (or Walnuts) – 1/2 to 1 cup, chopped
Maida – 2 cups
Butter – 1 cup, unsalted, softened
Light Brown Sugar – 1 cup
Egg – 2, large
Sugar – 1 cup
Vanilla Extract – 3 tsp
Baking Soda – 1 tsp
Salt – 1/2 tsp
Cinnamon Powder – 1/2 tsp
Method:
1. Mix the sugar, brown sugar and butter in a bowl.
2. Beat well until smooth.
3. Add the eggs and vanilla extract.
4. Beat again until well blended.
5. Mix the baking soda, cinnamon, salt and maida in a bowl.
6. Add this to the egg mixture and beat until evenly combined.
7. Add the oats, almonds and beat until mixed.
8. Make small balls of this mixture and place them on a baking tray lined with parchment paper.
9. Lightly flatten them before placing them in a preheated oven at 350F/175C.
10. Bake for 5 to 10 minutes or until golden brown around the edges.
11. Remove and cool.
12. Serve or store in an airtight container.
13. This stays good for up to a week.