Wrap yourself in the aroma of freshly baked Apple Strudel – a thin, flaky pastry embracing a spiced apple filling. Perfectly sweet, crunchy, and oh-so-satisfying.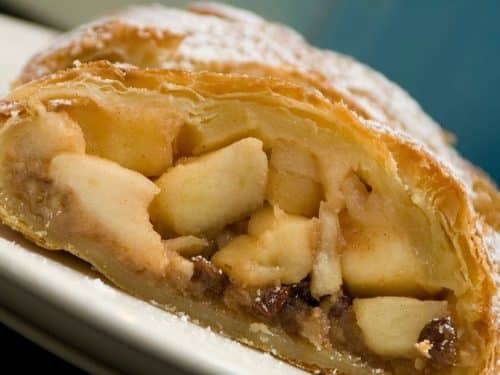 Apple Strudel is a pastry masterpiece that effortlessly combines the simplicity of thin, flaky layers with the comforting warmth of spiced apples. Originating from the heart of European baking traditions, this delightful dessert promises a journey through layers of crunch and sweetness.
About the Recipe
This Apple Strudel recipe encapsulates the essence of a classic European pastry. The delicate dance between paper-thin layers of pastry and a generous filling of thinly sliced, spiced apples creates a nostalgic and irresistible dessert. Perfect for those seeking a balance between sweetness and crunch.
Why You Will Love This Recipe
Fall in love with Apple Strudel for its harmonious blend of textures and flavours. The crisp, golden exterior gives way to a soft, cinnamon-infused apple filling, making each bite a journey through layers of deliciousness. A dessert that promises to captivate your taste buds.
Cooking Tips
Achieving the perfect Apple Strudel involves patience and precision. Roll the pastry thin enough to see the colours through it – a visual cue for the ideal thickness. Additionally, brushing the pastry with melted butter adds a layer of richness to elevate the overall experience.
Serving and Storing Suggestions
Serve Apple Strudel fresh from the oven for a warm, comforting experience. Dust generously with icing sugar before slicing for an aesthetic touch. Any leftovers can be stored in an airtight container at room temperature for a day or two.
Other Similar Recipes
Explore the world of European desserts with our other pastry delights like Austrian Sachertorte and French Tarte Tatin. These recipes complement Apple Strudel, offering a diverse array of continental sweetness.
Nutrient Benefits
While Apple Strudel is undoubtedly a delightful treat, it also provides some nutritional benefits. Apples bring vitamins and fibre to the table, making this dessert a guilt-free indulgence in moderation.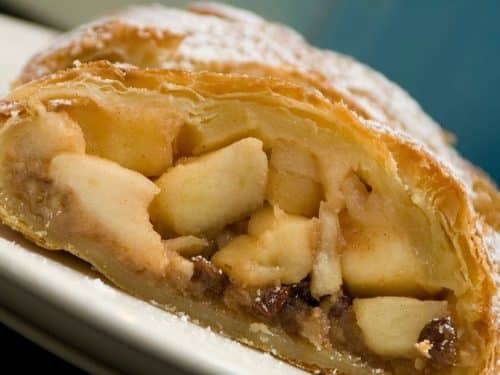 Apple Strudel
Wrap yourself in the aroma of freshly baked Apple Strudel – a thin, flaky pastry embracing a spiced apple filling. Perfectly sweet, crunchy, and oh-so-satisfying.
Ingredients
For the strudels
8

tbsp

Flour

A pinch of Salt

2

tbsp

Butter or Oil

1

Egg

Milk or Water to mix
For the filling:
2

tbsp

Butter or margarine (melted)

2

tbsp

Breadcrumbs (fried in margarine, optional)

1

large cooking Apple (peeled and thinly sliced)

1

tsp

Garam masala powder

2

tbsp

Sugar

2

tbsp

Nuts (chopped)

2-3

tbsp

Raisins (dusted with flour)

Icing sugar (for dredging)
Instructions
Sieve flour and salt, then make a well. Add oil, egg, and enough milk/water for a thin dough. Let it rest for 30 minutes.

Roll out the dough on a floured cloth until paper-thin. Brush with melted margarine and sprinkle with breadcrumbs.

Arrange sliced apples on the pastry. Sprinkle with garam masala, sugar, nuts, and raisins.

Roll the pastry into a Swiss roll, shape it into a horseshoe, and brush it with melted margarine.

Bake at 230C/450F for 20 minutes, then reduce to 190C/375F for another 15-20 minutes.

Serve hot or cold, generously dredged with icing sugar.
Frequently Asked Questions:
Can I freeze Apple Strudel for later?
Absolutely! Once baked and cooled, wrap the strudel tightly in plastic wrap and freeze. Thaw in the refrigerator before reheating in a warm oven for the best texture.
What's the best variety of apples to use in this recipe?
Opt for a cooking apple like Granny Smith for a perfect balance of tartness and sweetness. The firm texture holds up well during baking, ensuring a delightful filling.
Can I substitute garam masala with cinnamon?
Certainly! While garam masala adds a unique spice blend, cinnamon makes an excellent substitute for a more traditional flavour profile in your Apple Strudel.
Is Apple Strudel served as a dessert or breakfast?
Apple Strudel is a versatile treat commonly enjoyed as a dessert. However, its delightful combination of pastry and fruit makes it a lovely choice for a sweet breakfast or brunch.
What's a suitable accompaniment for Apple Strudel?
Pairing Apple Strudel with a dollop of vanilla ice cream or a drizzle of caramel sauce enhances the overall experience. For a continental dessert spread, serve alongside Austrian Sachertorte and French Tarte Tatin.