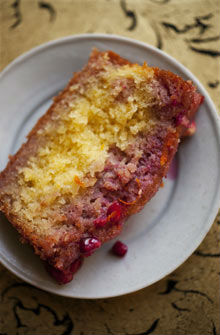 Ingredients:
Butter – 350 gms
Caster Sugar – 350 gms
Eggs – 6, large
Maida – 250 gms
Baking Powder – 2 tsp
Almonds – 100 gms, ground
Orange Zest – 4 tsp, powdered or ground
Cake Tin
For the Syrup:
Caster Sugar – 3/4 cup
Juice of 2 Large Oranges or 3 Medium Oranges
Pomegranate Juice – 3/4 cup, unsweetened

Method:
1. Whisk the butter and caster sugar till fluffy.
2. Beat the eggs lightly in a bowl and gently add to the butter mixture.
3. If it starts to curdle, add a little flour.
4. Now, sift the flour and baking powder together.
5. Add the almonds and combine well.
6. Add this to the butter mixture along with orange zest.
7. Mix gently.
8. Transfer this to a deep cake tin lined with baking paper.
9. Place the tin in a preheated oven at 160C for 45 minutes.
10. Meanwhile, add the caster sugar and orange juice to a bowl.
11. Pour the pomegranate juice and stir gently.
12. Remove the cake from th oven and while it is still hot spoon over the syrup.
13. Keep aside to cool.
14. Cut into slices and serve.
image credit: guardian