Buttermilk Pancakes is an easy to make and quick breakfast for weekdays or for sunday brunch. A great and delicious way to start your day.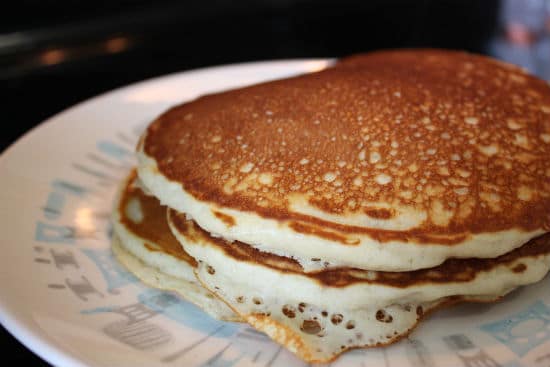 Ingredients:
Maida (Plain Flour) – 1 1/2 cups
Baking Powder – 1 1/2 tsp
Corn Flour – 1/2 tblsp
Salt as required
Sugar – 2 tblsp
Buttermilk – 1 cup
Butter – 1 1/2 tblsp, unsalted, slightly melted
Vanilla Extract – 1/2 tsp
Egg – 1, large, lightly beaten
Oil – 3 tsp
Method:
1. Mix the flour, baking powder, 1/4 tsp salt, sugar and corn flour in a bowl.
2. Whisk together the buttermilk, butter, vanilla extract and beaten egg.
3. Make a small well in the center of the flour mixture and gently pour the buttermilk mixture.
4. Mix well until the batter is slightly lumpy.
5. Heat a non-stick pan over medium flame.
6. Pour a ladleful of the batter and spread gently. Apply little oil around the edges.
7. Cook until the edges are dry and bubbles form in the center, about 3 minutes.
8. Gently flip it over and cook for another 2 minutes or until browned.
9. Remove and transfer to a serving plate.
10. Serve with a syrup of choice, fruits and butter.