A simple and easy to make cake with almonds, glaced cherries and condensed milk.  Garnish as desired or use it as a base to make other delicious cakes.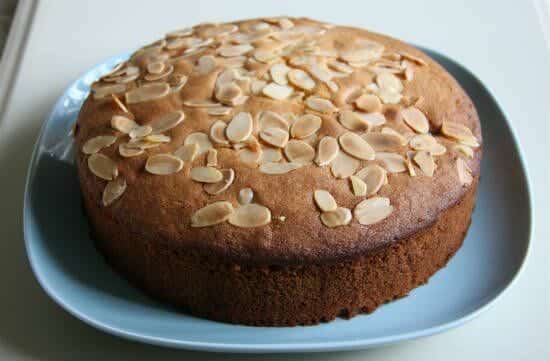 Ingredients:
Condensed Milk – 2 tins (about 750 to 800 ml)
Maida (Plain Flour) – 500 gms
Sugar – 150 gms, powdered
Almonds – 150 gms
Dried Cherries – 150 gms, finely chopped
Baking Powder – 4 tsp
Cooking Soda – 1 1/2 tsp
Butter – 250 gms
Hot Milk – 4 cups
Almond Essence – 1 tsp
To Garnish:
Sliced Almonds
Cherries
Chocolate Syrup (optional)
Method:
1. Sieve together the maida, baking powder and cooking soda in a bowl.
2. Mix the butter and sugar. Beat well.
3. Blanch the almonds in hot water, remove the skin and finely chop them.
4. Add the almond essence to butter mixture.
5. Gradually add the condensed milk and beat well.
6. Add the almonds and cherries.
7. Add the maida mixture and mix well.
8. Gently pour the milk and mix well until it has a thick pouring consistency.
9. Pour into a greased cake tin and place it in a preheated oven at 200C.
10. Bake for 30 to 40 minutes or until a clean knife inserted in the center comes out clean.
11. Remove and cool.
12. Garnish as desired and serve.