Cinnamon Roll is a popular and delicious breakfast item made using cinnamon, sugar and butter.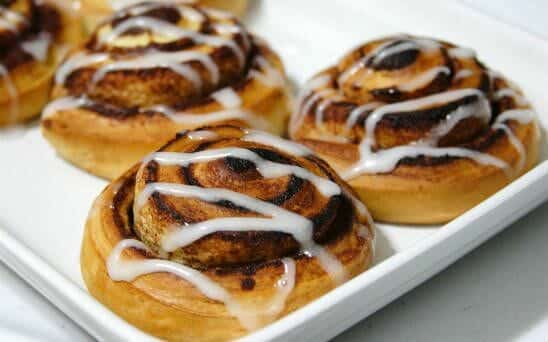 Ingredients:
Sugar – 1/2 cup
Light Brown Sugar – 3/4 cup
Cinnamon – 4 tsp
Puff Pastry – 500 gms (readymade)
Butter – 1/4 cup, melted
Icing Sugar – 3/4 cup
Double Cream – 3 tblsp + extra if required
Plain Flour for dusting
Method:
1. Mix the sugar, brown sugar and cinnamon in a bowl. Keep aside.
2. Sprinkle some plain flour on a flat surface and roll the pastry.
3. Brush with 2 tblsp of butter and top up with the cinnamon mixture.
4. Roll tightly like a swiss roll.
5. Brush the top with the remaining butter and cut into slices.
6. Coat the bottom of a baking pan with butter and sprinkle some sugar.
7. Place the cinnamon rolls and place it in a preheated oven at 200C.
8. Bake for 20 minutes or until they are puffed and lightly golden.
9. Remove and allow them to cool.
10. Meanwhile, add the icing sugar to a bowl.
11. Gradually add the cream, whisking all the time, until the mixture is thick and pourable.
12. Remove the cinnamon rolls from the baking pan and drizzle the sugar glaze on top.
13. Allow them to set and serve.