Easy to make homemade Chocolate Rum Truffles. With Christmas just around the corner, they make a wonderful dessert and they are also great for any occasion.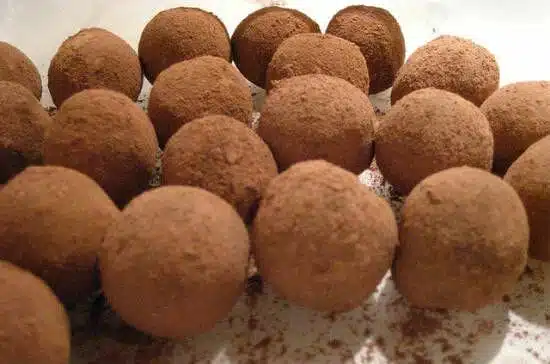 Ingredients:
Milk Chocolate – 50 gms, chopped
Dark Chocolate – 100 gms, chopped
Whipping Cream – 125 ml
Butter – 1 tblsp
Dark Rum – 1 to 2 tblsp
Cocoa Powder – 2 to 3 tblsp (or as required)
Method:
1. Heat a small pan over low flame.
2. Add the cream and simmer until warm. Do not allow it to boil.
3. Add the milk and dark chocolates to a bowl.
4. Pour the cream over.
5. Stir well until the chocolate has fully melted and the mixture is smooth.
6. Add butter and rum. Mix well.
7. Allow it to cool and cover the bowl with a cling film.
8. Keep it in the fridge for 8 hours or overnight or until firm.
9. Using a teaspoon, scoop up a small walnut-sized portion of the mixture.
10. Dust your hands with some cocoa powder and gently roll into a ball, without allow it to melt.
11. Roll the ball in the cocoa powder to lightly coat and place it on a tray.
12. Repeat until all of the mixture is used up.
13. Cover and keep it in the fridge for 30 to 45 minutes or until set.
14. Serve.