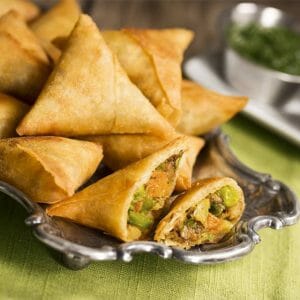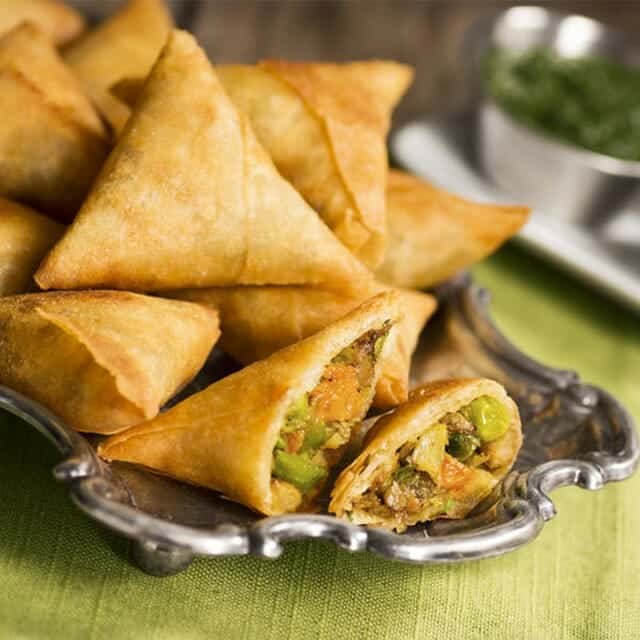 Ingredients:
Olive Oil – 50 ml + 1 tsp
Minced Lamb – 200 gms
Green Peas – 100 gms, frozen, thawed
Tikka Paste – 2 tblsp
Onion – 1, grated
Carrot – 1, peeled, grated
Mint Leaves – 2 tsp
Mango Chutney – 1 tblsp
Filo Pastry Sheets – 3 sheets
Salt as per taste
Pepper Powder as per taste
Method:
1. Heat 1/2 tsp oil in a large pan.
2. Add the minced lamb.
3. Sprinkle salt and pepper powder.
4. Fry until browned all over.
5. Add the tikka paste and cook for a minute more.
6. Add the carrots and onions.
7. Add 1/2 tsp oil and cook for 5 minutes.
8. Transfer to a bowl and add mint leaves, mango chutney and peas.
9. Brush the pastry sheets with olive oil and add 2 tblsp of the lamb mixture.
10. Fold to make a samosa shape and brush with more oil.
11. Transfer the prepared samosas to a baking tray lined with parchment paper.
12. Place the tray into a preheated oven at 200C/400F and bake for 30 minutes or until golden. Turn once or twice.
13. Remove and drain excess oil.
14. Serve hot with chutney and salad of choice.