Delicious, tasty and healthy cookies with oats and raisins. These are perfect as a lunch box item, evening snack or during any festive occasions.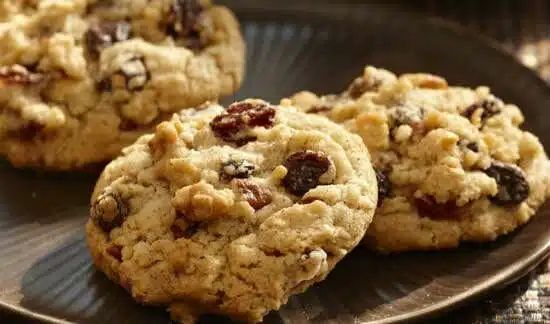 Ingredients:
Oats – 450 gms
Raisins – 150 gms
Rice Flour – 200 to 225 gms
Soda Bicarb – 1 tsp
Cinnamon Powder – 1 tsp
Ginger – 1/2 tsp, ground
Nutmeg Powder – 1/2 tsp
Butter – 100 gms
Eggs – 2, beaten
Palm Sugar – 250 gms
Vanilla Extract – 1 tsp
Method:
1. Mix the rice flour, soda bicarb, cinnamon powder, ginger, nutmeg powder and oats in a bowl.
2. Mix well.
3. Beat the eggs, sugar, butter and vanilla extract in an another bowl.
4. Add the flour mixture into the eggs and add raisins.
5. Mix and spoon over 1 or 2 tblsp of the mixture on a baking tray lined with parchment paper.
6. Flatten slightly.
7. Bake in a preheated oven at 180C/350F for 10 to 15 minutes.
8. Remove and cool.
Tip: If the mixture looks too wet, add some more raisins or oats.